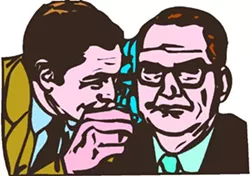 Updated below
Updated again, 5:45pm.
Yesterday, I was looking through the latest batch of Orders in Council-- the decrees made by premier Darrell Dexter's cabinet, and only cryptically alluded to on an obscure corner of the internet-- and found this one, from September 21:
Order Number 2010-356
Date of Order 2010/Sep/21
Statute Industrial Development Act
Text of Order The Governor in Council on the report and recommendation of the Minister of Economic and Rural Development dated September 10, 2010, and pursuant to Sections 2, 3 and 5 of Chapter 222 of the Revised Statutes of Nova Scotia, 1989, the Industrial Development Act, is pleased to:
(a) authorize financial assistance to Seaforth Energy Inc., in an amount not to exceed Two Million Dollars ($2,000,000.00), on terms and conditions generally as outlined in Schedule "A" attached to and forming part of the Report and Recommendation of the Minister of Economic and Rural Development dated September 10, 2010; and
(b) authorize the Minister of Economic and Rural Development to execute such agreements, documents and instruments as may be required to give effect to this Order.
Departments Economic and Rural Development
Now, in context of the entire provincial budget, two million bucks isn't much, but it's, well, a hell of a lot of money, and the government has apparently just up and given it to Seaforth Energy, a Dartmouth firm. I found this interesting. Maybe it's a good investment--- Seaforth makes wind turbines, and we have ambitious renewable energy goals, so that could be part of a good news story. Or, maybe it's a old-fashioned kickback to a politically connected insider. Better find out, I thought.
First thing I did was go to the Department of Economic Development's website, to look for press releases celebrating the $2 million gift of tax dollars to some worthy private firm. Nothing.
Next, I thought Seaforth Energy might've issued it's own press release, celebrating being recognized for its worthiness by being handed a gift of two million tax dollars. But Seaforth's website is silent. I've called, and someone named John Barry is supposed to call me back. I'm still waiting.
Or, maybe some other media outlet has already covered this. Nope. Apparently they're all stretched too thin, and don't have the reporting staff to routinely track down orders in council, like at least some of them used to.
Well, it looked like I'd have to do some actual reporting, so I looked at the Joint Stock Registry, and ran Seaforth's principles through election campaign contribution reports and every other database I could think of. I called the mysterious office that has in the past given me the supporting documents to Orders in Council, only be told that I'd have to wait "a few days" for the "Attachment A," because the office first, "as a courtesy," had to notify the minister of economic development. So, I also called the ministry's communications people yesterday afternoon. I didn't get a call back, so I tried again this afternoon. They've said they've received my message, and "are working on it."
Let me just say this: THIS IS RIDICULOUS!
We're talking about a gift of $2 million of taxpayer money to a private firm. The government should be prepared to immediately explain itself. Supporting documents should be turned over immediately or, better yet, should be placed on the very same website announcing the Orders in Council. A press release should be written and sent to the media, the very moment the payment was approved.
All of that sort of public disclosure happens in every other jurisdiction I've ever worked in, as a matter of course, and as public policy. But Nova Scotia has an absurd culture of secrecy, where "courtesy" is extended not to the public, but to the bureaucrat who needs time to spin a proper communications response.
This culture of secrecy is a sickness. It's anti-democratic, and in the end even against the best interests of the bureaucrats who practice it, because it only makes the public distrust them.
Updated, Tuesday 4;15pm: Economic Development spokesperson Vicki Roberts calls to explain that the $2 million is a loan guarantee, "so they can get a loan through a private financial institute." She had no further details about conditions for the loan guarantee or the logic behind it. But, she says, the government is "preparing" an official announcement.
2nd update, Tuesday 5:45pm: Seaforth president John Barry calls, to say the loan is actually a line of credit, and is extended so Seaforth can expand its Woodside operations to handle a backlog of orders. The company sells turbines to Italy, the United Kingdom, Israel and the US, says Barry---"places where they have feed-in tariffs."
Citing the need for competitive secrecy, Barry declined to give specifics about his planned expansion, but the extension of a government-backed line of credit "is not something anyone's going to be on the hook for."