Wild Blueberry Harvest Festival
August 14-29, central Nova Scotia
wildblueberryfest.com
---
Lil MacPherson loves blueberries. "It's mostly because they're Nova Scotian," says the restaurateur. "They are us."
In fact, they are so "us" that there is a Wild Blueberry Harvest Festival taking place from August 14-29. Watch for blueberry socials, breakfasts, suppers and picnics happening all over the province's blueberry belt, from Truro to Amherst. Restaurants in that central Nova Scotia region are also getting into the blue (berry) mood: Your tastebuds will enjoy such delights as roast pork loin with blueberry sauce at the Black Rock Bistro in Parrsboro, and a blueberry-apple sangria in Malagash at Jost Vineyards. (More restaurants and their menu additions are at the festival's wildblueberryfest.com website.)
But taste isn't the only reason to dig blueberries. "They're one of the few fruits native to North America," MacPherson says. "We can get them in the wild and they are spectacular. They are full of vitamins C and K, manganese, good dietary fiber and are loaded with antioxidants. They are just a powerhouse!"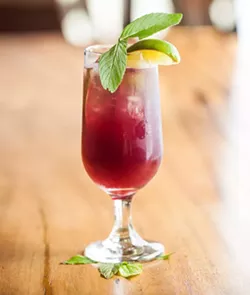 Although the Wooden Monkey restaurants that MacPherson co-owns are downtown in Halifax and Dartmouth, far from the wild blueberry wilds, their menus are dotted with the berries. You can start your meal with the Blueberry Lavender Mojito or straight blueberry juice, finish with the blueberry crisp and a wee dram of blueberry liqueur from Lunenburg's Ironworks Distillery.
"They say blueberries have a rock star reputation, and I think yeah they definitely do," MacPherson says. "It was the blueberry pie that got me backstage to meet the Stones: Charlie Watt, Ronnie Wood and Keith Richards."
In September 2006, Ron Wood and his wife Jo had dinner at the original Wooden Monkey in Halifax the night before the Rolling Stones played their soggy set on the Halifax Common. MacPherson introduced herself, chatted with the pair, explaining the restaurant's ideology and her interest in healthy eating and organic food. They hit it off, and Wood invited her to the concert. MacPherson said thank you with a pie.
"We were backstage with The Rolling Stones," MacPherson says. "Keith Richards growled at me. Ron Wood smiled and said 'The Monkey Lady!' and came up and gave me a kiss on the lips, oh my god! They were eating the pie just before they went on stage. It was beyond a dream come true. And the freakin' pie got me back there."
---
Make The Wooden Monkey's famous blueberry pie
Blueberries help the Monkey on its sustainability mission: The kitchens prioritize local ingredients as much as possible, focusing on certified organic and verified non-GMO products. "We only use maple syrup, fair trade sugar or honey," says Lil MacPherson. "And we won't use cornstarch if it's not GMO-free. If that's not the case, we'll use arrowroot." If you're using arrowroot, MacPherson suggests using about a cup to replace the 3.5 tablespoons of cornstarch called for in the recipe she's sharing here.
Jeff Dachs' blueberry pie
Ingredients
Spelt crust
3 ½ cups of organic Spelt Flour NB Speerville Grainery
¾ cup NS Acadiana Soy non-GMO Silken Tofu
¾ cup NS Hillcreek Farm non-GMO cold pressed canola oil
1 tbsp organic fair trade sugar
½ tsp sea salt
Filling
12 cups of frozen local blueberries
1 ½ cups organic fair-trade sugar
1 tbsp fresh lemon juice
1 tsp powered ginger
3 ½ tbsp GMO-free cornstarch
3 ½ tbsp cold water
Method
For the filling:
Combine blueberries, sugar, lemon juice and ginger in a pot on the stove. Bring to a boil, and then turn down to medium heat. Simmer for about 10 minutes.
Mix cornstarch and water then slowly stir in mixture into the blueberry filling. Let sit and cool down completely. For best results, prepare the filling a day in advance.
For the crust:
Measure and combine the spelt flour, sugar, and sea salt in one bowl. Measure and combine the silken tofu and canola oil in another bowl. Pour the wet ingredients in with the dry and mix.
Begin to knead into the dough, without over-doing it. The less you handle the dough the flakier the crust will be. Once the dough has formed and there is no loose flour, stop kneading. The dough will have a swirly appearance. (This dough should be used right away or it will become oily.)
Split the dough amount in half, rolling out one half into a pie plate. Pour all of your blueberry mixture into the crust. Roll out the other half of the dough for the top of pie, and lay overtop. Press out any air pockets around edge, cut away excess dough, and then crimp the edges. Cut air vents in the top and sprinkle with sugar.
Bake at 350°F for 30 to 40 minutes. Let the pie cool down before cutting in. Put on your favourite Rolling Stones song, pour a big cup of tea and enjoy!