Nobody polarizes people more than Jian Gomeshi, other than shirts tucked in/shirts out (for the record—out. always out). But whether or not you think he's a dreamboat, a king of Spain, or in the case of halifaxlocals.com, 25 pages worthy of douchebag, dude is the only person hosting an hour-long arts and culture show in Canada that at least tries to be inclusive. I mean, if our national newspapers don't have an Atwood/Gehry/Cohen/Mitchell/Farley/Plummer/Kain story, it's not like they fill space with Halifax arts. That said, I went to the taping of Q at the Dunn (I ate a Dawg Father veggie dawg first—daylight? Sober? Huh) because some amazing local people work on the show, Brian Borcherdt, Erin Costelo and The Beginners were performing, WITH a special guest appearance by mother-f*'ing Kyle Shaw. And not because he's my boss, or because he was wearing a snappy new jacket. All the performances were fantastic—I'm really curious to hear Borcherdt's new solo album and The Beginners' song "Calgary" is proof once again of what a fantastic storyteller that Mike O'Neill is (he had a sweet shirt on too). And can I be any more tired? Apparently everything is fantastic. I think I dropped my adjectives in the bar.
The Beginners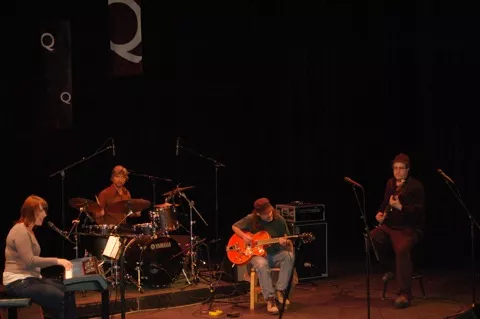 Erin Costelo
Kyle Shaw on Halifax's Pad Thai Explosion Afterwards I was really thirsty and was being held back from my first beer by a ridiculously long explanation as to how Jian screwed up his middle finger by slamming it in his hotel-room door. The story was saved by Sean Majumbder playing the role of the door—too bad we all didn't have Majumbder, who showed up later at Coconut Grove at the end of Boxer The Horse, in our back pocket for when our stories die in front of hundreds of people. Boxer The Horse impressed me. I mean, they're so young, the ID must still be warm from the laminator, and they can already handle toqued, bearded drunken chicken-wing hecklers with grace. I'm loving the EP and if their fun poppy shows are already this put together, goodness me, this band has a promising Polaris-nominating future ahead of them, like their Charlottetown brothers in melody, Two Hours Traffic. I also loved the Rural Alberta Advantage (yes, from Toronto). That is one of the best parts of festivals—discovering new bands I wouldn't get a chance to see otherwise. Laura took photos. I sat back and enjoyed the beers I missed during the finger-slam story (you know I'm joshing, Jian). At this point, Laura and Alison are both in the bar, and you could feel the radiance. By this time the place was packed out for Mr. Rich Aucoin, always a good time, but I decided to slip out to see Bloodsport. Who are BLOOOOOOOODSPORRRRRRRRRT. Seriously what do you want me to say about the awesomeness of this band? And check out how Tara's scarf matches her bass. If that doesn't say commitment…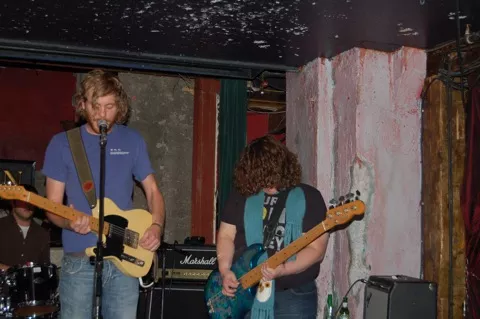 Then it was The Maynards. Whose new stuff I am loving. And will be saying a lot about in the next couple of weeks when the album comes out. Just sayin.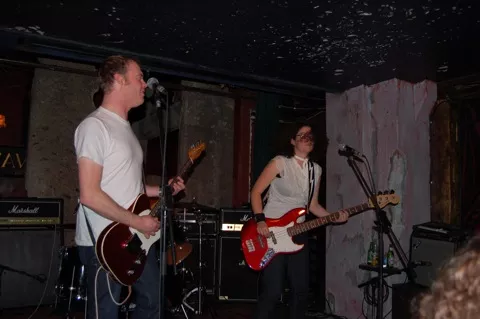 Meanwhile there was some serious hair in the bar (I think this is what Alison refers to as a moustache ride) waiting for Scarce. Couldn't do it. I don't think I have the emotional commitment required. And I wanted to see Laura Barrett, who turned Coconut Grove into a charming late-night speak-easy. Amazing how she can fill a room with her presence and a thumb-piano. Even so, I had to laugh when she promised a dance party and then brought up Sari Lightman from the Ghost Bees. But they did it! Thanks to a Pete Samples sample and a laser light show, the ladies (whose voices are so beautiful together) did bring the wee house down.