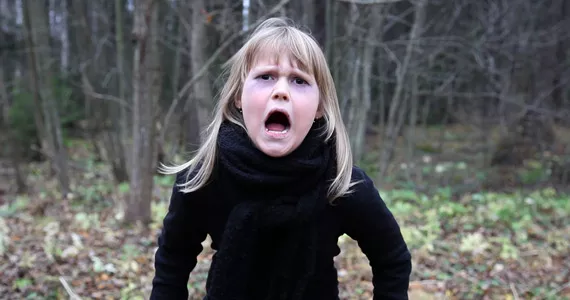 Minna Suoniemi
Video still from Little Red Riding Hood and Wolf.
Defining the contemporary moment is a hard task. It's a constant struggle to keep up with the now, now, now. Luckily, Jared Leon and Johanna Heldebro are here in Halifax to showcase the video work of artists from around the world who, together, shed some light on the contemporary condition.
On January 28, Ahead of the Now opens at the Khyber. Curated by Leon and Heldebro, the show features the video work of eljka Blakšic, Laura Dutton, Lissa Rivera, Sarah Rara, Minna Suoniemi, Cajsa von Zeipel and Heldebro herself.
"We're trying to show a series of perspectives that we find really exciting." Leon says. "They're so fragmented but in a positive way. It's amazing to see all these different things together."
Leon and Heldebro have been bringing things together for years. Leon is a musician, writer and law student and Heldebro is an artist working primarily in photography and video. Together they are long time collaborators working on a spectrum of projects including their band, The Nymphets.
While in New York in 2010, inspired by the art community they were immersed in, they started an interview-based arts magazine called Laura that brought together the people and ideas they were surrounded by.
"We were just meeting a lot of interesting people and coming across a lot of people who we thought were doing really exciting things and we just starting making a publication based on that experience."
Laura is still printed in New York and distributed worldwide, the content informed by wherever these collaborators happen to be. This past summer they were working with POP Montreal and so the majority of interviews were with Montreal-based artists. They've spent a good deal of time in Sweden, where Heldebro is from, as well as Berlin.
Through their travels and conversations, Heldebro and Leon have been taking the temperature of the contemporary world and now they're here in Halifax ready to give us a sampling of what they've found.
"Everyone's just kind of doing their own thing," Heldebro says. "They're approaching it from their own perspective; it's not something you could tie to a specific movement right now."
Ahead of the Now will be a sort of mosaic of these disparate viewpoints.
"There are all these different personalities, the really mellow person from LA with the really kind of no fuss person from Finland."
Showing these different perspectives together, Heldebro and Leon hope that the variety will offer a snapshot of the contemporary.
The content of the works will range from the flight of a murder of crows, to the unsettlingly feral sounds of a mother wrestling with her son. One of the artists, Lissa Rivera, will be in Halifax for the exhibition. She will be displaying an excerpt of her installation, Incantations of a Doll Collector, inspired by YouTube videos of people who dress and perform as dolls.
The various videos will be showing on different screens positioned throughout the Khyber and Heldebro hopes that the public will take the time to experience them all.
"I know that when people go to see art sometimes it's very quick," she says. "I hope that people sit down. The pieces themselves aren't necessarily that long and especially for the ones that have sound—really listen, you know, put on the headphones."