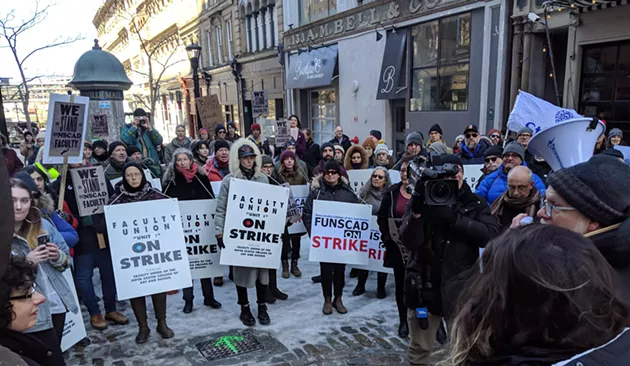 After 18 meetings and five days of sessions with the university's administration, NSCAD faculty and librarians are on strike. Almost 100 students, faculty and community supporters attended a rally in support of the strike on Friday at the university's Granville campus.
The striking workers are asking for improved job security for the 56 part-time teachers at the university. Right now part-time teachers only get six weeks' notice of employment for a given semester.
They are also asking for workload changes and wage increases, which faculty union president Mathew Reichertz says are overdue since they haven't bargained for the last seven years.
While the university was working on staying open amid severe financial trouble, faculty rolled over on contracts to keep their jobs and school afloat. Now that the university has started to recover, Reichertz says "we have a lot to make up for."
According to Reichertz, the faculty union hopes to make the strike as short as possible in order to get students back into their classrooms. "It's a very stressful thing for students," he says. "But very heartening to see their support."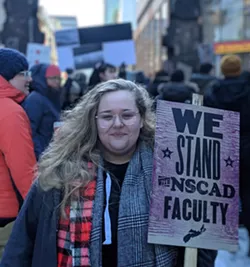 NSCAD art history student Elizabeth Simmons was at the rally. The almost one-to-one relationship with faculty means a lot to her and she's happy to support them but notes that for graduating students it's much more difficult.
"To be fair I am a little bit nervous about missing class," says Simmons, "but what it boils down to is this is, right now, way more important."

Reichertz says the union is willing to go back to the table "as soon as we hear they are at least willing to talk to us about some of our unresolved issues."