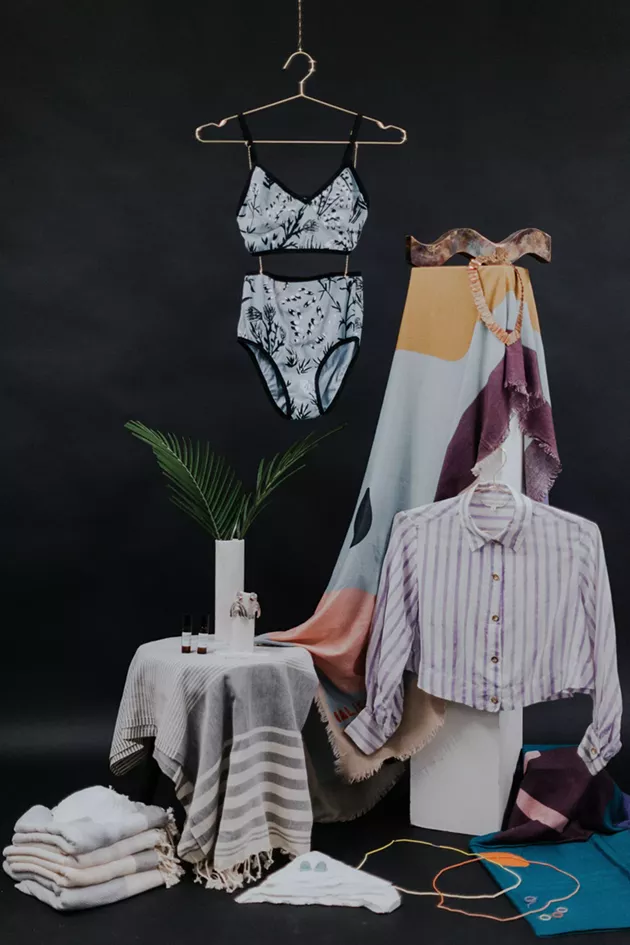 A newly formed group of Halifax designers,
Objects + Attire
, is hosting a holiday pop-up market this Friday and Saturday at 6437 Cork Street (December 7th, 5-7pm and December 8, 10am-4 pm). The group's goal is to present thoughtful designs to the local community. Participating designers include
Maggie Jayne
,
Sarah Sears Jewelry
,
Thief & Bandit
,
Weft End Fine Textiles
,
Anne-Sophie Vallée
among others, each one will be showcased in an hourly giveaway.
Natalie Slater
—who's currently representing Maggie Jayne while designer
Maggie MacCormack
is in India—calls the collective diverse. "We have clothing design, jewellery design, homeware design, culinary design," she says, adding that the designers have conscious designing in common. "People represented here go out of their way to either make the pieces themselves or work with sustainable fair trade practices and factories in other locations."
For instance, MacCormack, "works in Jaipur with an amazing fair trade manufacturing place that supplies organic fabrics," Slater says, and Thief & Bandit's
Amie Cunningham
"
has her manufacturing place in Bedford, all of the clothes are being made here in Nova Scotia."
The first Object + Attire holiday market falls during a busy pop-up season but Slater anticipates an excellent turn out.
"It'll be fun to have the market in an intimate setting with the designers. I'm curious about everyone's practices in Halifax, it's a small place and there's a lot being made."