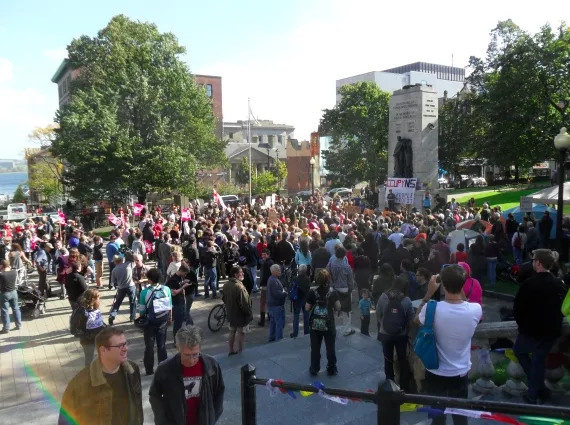 Occupy Nova Scotia kicked off its occupation of Grand Parade today, joining hundreds of like-minded occupations around the globe.
"This is a new dawn, a new beginning and a new way of doing things," explained Billy Lewis, a Mi'kmaq elder who opened the event. "Our way of doing things is going to be very confusing for the Powers That Be."
It's a high-spirited crowd of about 200, but those numbers will probably grow, says Ryan McKenna, one of the organizers. He expects about 50 people to sleep on the grounds. "Every inch of grass will be covered with tents," he says.
The group is highly organized, with a medical tent, a sleeping area, art supplies and provisions for food and entertainment. Today's schedule looks like this:
Noon-2pm Speakers, with an allotted time of five minutes each
2-3pm "Arts and Culture"
3-4pm Teach-ins/workshops, starting with "conflict deescalation"
4-5pm Discussion circles
5-6pm Working groups to plan activities
6-7pm Supper
7pm General Assembly, where decisions are made
Afterwards Putting on activities to join the city-wide Nocturne art celebration
The occupation is open-ended, "from now until whenever," says McKenna.