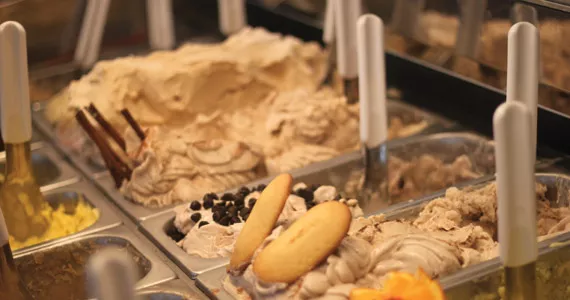 Desserts of the gelato and sorbet kind are a highlight at Humani-T.
My friend Laura is a vegan. When we eat out, there is a bit of a routine to it: Wooden Monkey, Heartwood, jane's. Wash, rinse, repeat. Sure there are a few other places we can go, but those are our inevitable dinner, lunch and brunch stops. So when I heard Humani-T made it a point of making vegan soups, I called Laura.
It's a big, airy space, the walls are a sage green colour, and the bubbling flow of a water feature fills the air with calming noise. Leafy plants create a homey atmosphere. The store attached to the cafe is busy, people are milling about the aisles of coffee, tea, nuts and breads. Most of the tables at the cafe also see people reading or surfing the internet, and a woman is reading stories to her kids by the fireplace.
Today there's a vegetable chili and a vegetable soup with coconut milk and tahini on the vegan soup menu. We take a look at the sandwiches and choose the spicy veggie wrap ($5.95) and the swiss chicken panini ($6.95), to which we each add one of the soups ($2). They offer to grill them briefly, so we say yes. I add a large cappuccino ($3.99) and Laura orders a large coffee ($1.99).
It's an incredibly drawn-out wait for both our coffee and the food, though there doesn't seem to be a long queue of people waiting. The regular coffee is delivered in a to-go cup, which seems odd. It and the cappuccino are good, though. As a vegan-friendly restaurant, it would be nice if they kept the soy milk as available as cream and milk, but they kindly hand it over when asked.
The chicken sandwich is not great. It clearly did not spend much time on the grill, as it is barely warmed through and has only faint marks on the thick bread. The cheese hasn't melted in the least, and still has the chill of the fridge on it. The chicken is incredibly dry, and unseasoned. It's very bland, a huge letdown considering how delicious all of the sandwiches and baked goods in the counter display look.
The chili is less of a traditional stick-to-your-ribs stew and more of a tomato vegetable soup kissed with a bit of heat from chili powder. It's good, much lighter than I imagined. The flavour is bright and, while there isn't much heat, the mix of carrot, mushroom, celery, beans and chickpeas is tasty. In fact, the sandwich is vastly improved with a dip in the soup.
The veggie wrap is by far the better of the two sandwiches, filled with a dense mixture of curried vegetables, thick with potato and tasting heavily of coriander. The only thing missing is a bright pop of fresh herbs. The soup is not as creamy as it sounds on the menu board with coconut milk and tahini highlighted in the description. It's a thin, salty broth that's mostly bulked up with little slices of carrot. It's definitely a hit and miss lunch.
The gelato counter is pretty irresistible. From the moment I walked in, the rainbow of frozen treats, decorated with fruits and cookies, practically begged to be explored, so as soon as we're done our meals we head to the counter to sample some of the gelati and sorbets for dessert. I sample three or four creams and ices before settling on a medium order ($4.89) of salted caramel and dark chocolate gelati. Laura chooses strawberry and orange basil sorbets. There is a bit of crystallization, but the sorbetto is really smooth and refreshing. The orange basil is an especially exciting flavour, though the salted caramel is also memorable.
Neither of us are totally won over by Humani-T as a lunch spot, but I think we've definitely added a dessert destination to our regular haunts.