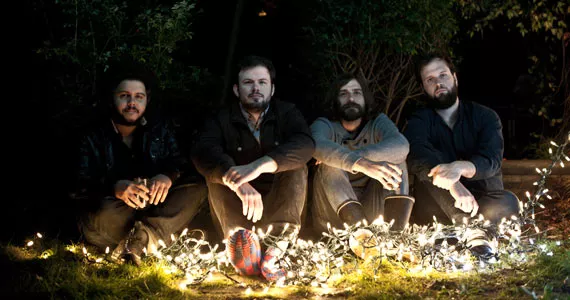 Scott Munn
Wintersleep lights up the stage on Saturday.
Minutes before Paul Murphy calls, his old friend Jud Haynes has made public the link to The Dependent Years. It's an online archive of posters, press and presence (plus audio and video) featuring the bands of the Dependent Music collective, where Murphy's band Wintersleep got its start in the early '00s alongside Brian Borcherdt, Contrived, Jill Barber and Land of Talk.
"It's been over a decade, our first show was 2002, at the And Cafe," says Murphy. "It is funny, it feels to me like it was yesterday but it was 10, 11 years ago." In its first major Coast feature in 2005, Murphy called Wintersleep "just a baby of a band." He laughs when reminded of it. "We're an old band. We're a grandpa of a band! We were just kind of doing it for fun. I was going to university at the time and we were all in other bands. I definitely didn't think of it as something that would be potentially do well enough to do as a living."
That was five albums, 16 videos, one Juno and one visit to David Letterman ago.
"It's definitely fun, we have a great time, still. There are tough aspects of it," he says. "You get a lot of support from places like Music Nova Scotia" ---which the band is in town supporting on February 1 at a fundraiser at the Marquee---"in Canada. You actually have the option to do things like tour. It's really the difference between losing a whole bunch of money and breaking even. It's the fact that there's not a lot of places---it's a really hard place to actually make a living, if that's all you're doing is touring Canada."
On Saturday the quintet, who will be joined by In-Flight Safety and Aqua Alta, is testing out some of the new songs they've got written for album number six.
"All fall we've been working on way too many songs and so right now we're trying to decide which ones we're gonna work on and which ones we're gonna play on this tour," says Murphy. "Seeing which ones work and which ones don't. Sometimes you'll record and then play it live and it's not as good as you thought."
Wintersleep has plenty of experience figuring out what works live, working hard to move from cafe to concert hall, criss-crossing North America a bunch of times with the likes of Frightened Rabbit, The Tragically Hip and The Hold Steady. But save this week's run of east coast shows, the band is essentially on a break.
"We've chilled on the touring bender. We're just basically writing, which is the first time we've ever done that, take two or three months off to just work on a record," says Murphy. Wintersleep's past couple efforts have been recorded with Dave Fridmann and Tony Doogan, but there's no plan in place yet. "It's been pretty chill, a very chill period of time."
At this point, Wintersleep has been based in Montreal longer than Halifax---plus its audience has only grown larger---so every return is cause for excitement. No venue has gone unfilled: Alderney Landing, Citadel Hill, the Marquee, Olympic Hall, the Cunard Centre and, one weather-related emergency time, The Carleton. "Halifax definitely feels like it's our hometown," says Murphy. "We know little spots and different people who we can call on short notice when we're like 'Our show got cancelled, can you shove us into your venue?'"
---
Wintersleep w/In-Flight Safety and Aqua Alta
Saturday, February 1, 9pm
The Marquee Ballroom, 2037 Gottingen Street
SOLD OUT