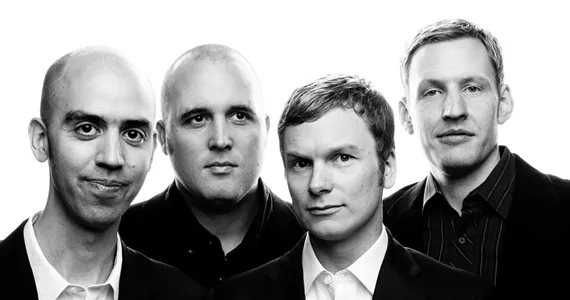 Peripheral Vision are nothing if not spontaneous
At first glance, Peripheral Vision looks like your average jazz quartet. Made up of bandleaders Don Scott on guitar and Michael Herring on bass, the band is rounded out with tenor sax and drums. But once you look past its modestly sized ensemble, you find an extremely powerful jazz band that sounds more complex than the sum of its parts. Composer/co-leader Don Scott says the choice of their name is no coincidence.
"For me it kind of summed up the stuff we're trying to do," Scott says. "We're kind of a hard-hitting jazz group playing music that's a little different, a little on the outside."
Inspired by the 1960s work of the Miles Davis Quintet and Wayne Shorter, as well as the dynamic recordings of modern day acts from the downtown New York scene, Peripheral Vision come to town in support of their second full-length release, Spectacle: Live!
Recorded at Vancouver's famous standard The Cellar Jazz Club, Spectacle is an album of new material recorded live in concert during the initial tour in support of their debut album.
"We had actually released the debut album the same tour we ended up recording Spectacle, so we had already written a whole other bit of music," Scott says. "We weren't going out there thinking we were going to record a live album."
The decision to record live off the floor in concert captures the spontaneity and experimentation of the band as it waves in and out of its brand of modal jazz.
"I think the album represents us quite well, because we're a really good live band, there is a lot of interaction going on onstage," says Scott. "Sometimes in the studio it's harder to bring that side of us out when there isn't an audience. The beauty of this record is that it's live and it's really a representation of us, so hopefully you see some of that when we're in town."
Peripheral Vision Thursday, June 28 at Stayner's Wharf, 5075 George Street, $5, 9pm