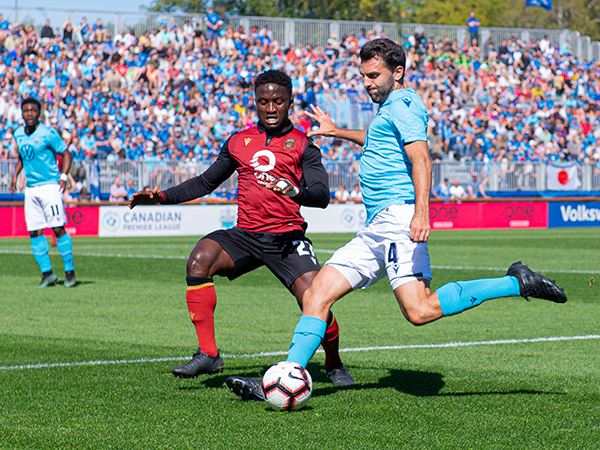 Trevor MacMillan/HFX Wanderers FC
Alex DeCarolis (right) will speak at Tuesday's event.
Together From Aways
Tues Oct 15
Canadian Museum of Immigration at Pier 21
Andrea and Charles Bronfman Theatre
1055 Marginal Road
7-9pm, $10
---
O n any given HFX Wanderers FC game day, there is an international flair throughout the Wanderers Grounds. While the players from over nine different countries play on the field, flags of Japan and Trinidad and Tobago rest on the railings of the stands. It's a meeting point of cultures brought together by the beautiful game of soccer.
"Each player...brings to the team a different touch, a different culture," says defender André Bona who moved from France to Montreal to complete a Masters degree. "We have different vision but at the end of the day, all the players [have] the same idea."
Bona, alongside teammate Alex De Carolis and head coach Stephen Hart, will speak at the Canadian Museum of Immigration at Pier 21 at the Together From Aways event next Tuesday, October 15 where they'll share their experiences as newcomers in Canada. The event borrows a name from the "Together x From Aways" slogan the professional team adapted early on when it joined the Canada Premier League for its inaugural season—a season that ends later this month.
"It's sort of a microcosm of Canada really because that's what we are," head coach Stephen Hart says of the slogan. "That's what builds the nation and that's what we are. And it's one of those slogans you look at and you kind of smile when you look around the league, all the teams, all the coaches. I think it's a very special, special environment."
Hart moved from Trinidad and Tobago to Canada in the early 1980s to play soccer for Saint Mary's University after a friend sold him on the idea of a new experience in a new place and he's been a part of Halifax ever since.
"The words 'get a new experience' was what caught me because what I said to myself was 'OK, I can visit and live in a new culture, I can go to school...and at the same time play some football,'" says Hart, who played at SMU from 1981-85.
"I fell in love with the city, the people and that's, the rest is history really."
In 1980, Hart played for the Trinidad and Tobago national team, a team he would later manage from 2013-16. Hart also coached the SMU women's soccer team in the late 1990s and was the Canadian men's national team manager from 2009-12.
Now he coaches the Wanderers team, which has four players from Trinidad and Tobago alongside athletes from Colombia, Peru, France, Japan and Côte d'Ivoire. Other players have dual-citizenship or strong ties to other countries.
"Soccer is one of the only sports in the world that's so universal," says Alex De Carolis, whose grandparents came from Italy to Canada via Pier 21.
"You can meet guys from all over the world and don't speak the same language but you can understand the game the same way."
De Carolis grew up in Sarnia, Ontario where his family eventually settled after first coming to Canada. The defender relates to what it's like playing soccer in a different country after spending three seasons in Sweden.
"I understand the sacrifice it [takes] and I feel like the results haven't come this year but I feel like the guys really appreciate Halifax as a city and how the fans have embraced us all."