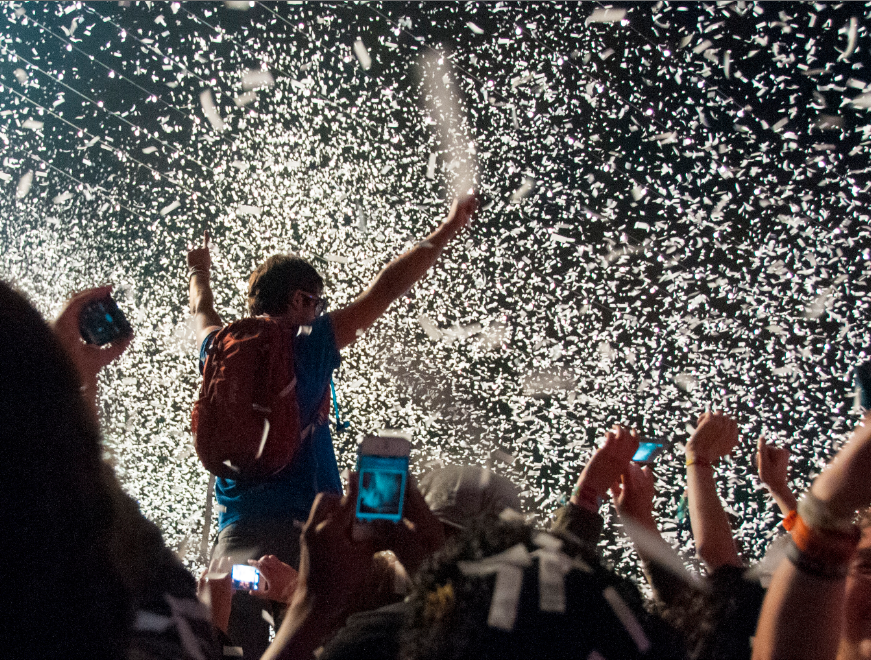 Words by Amanda Wenek, photos by Ashley Lynn LeBlanc (unless otherwise indicated)
Well, another year, another successful Osheaga pilgrimage. This is my third year hitting up the fest, and with each year it gets a little busier and I feel a little older. But I knew that the early sell out of Osheaga was a sign of what was to come: lots and lots and lots of people, and one hell of a good musical offering.
The adventure started with a two-day, 14-hour drive that felt like years as I wildly anticipated this weekend that I look forward to all year long. With Kendrick Lamar blasting on the stereo (I snuck a little Mumford in there too), we spent the car ride getting pumped for pizza cones and some of the best musical acts on the scene right now.
With record attendance this year (135,000+ people over all three days) and probably its most high-profile lineup to date, Osheaga is making it onto the map as a destination festival—right up there with Lollapalooza and Coachella. And true to festival form, Parc Jean-Drapeau was packed to the brim with every sort of hipster you could imagine. For three solid days, we were in a sea of combat boots, high-waisted jean shorts, oversized band tanks, maxi skirts, crop-tops, and flower crown after flower crown after flower crown (a sartorial nod to The Lumineers, of course).
Finding refuge in the VIP section definitely helped me survive the weekend. Cheap beer, shade, good eats and the main stage acts showing on a big screen provided much-needed breathers when the crowds became a bit too much for this road weary writer. Thankfully, I had 120+ performances at my fingertips as a welcome distraction.
Macklemore and Kendrick Lamar were two of the most anticipated acts this weekend. For me. For you. I think for everyone. As proof of their popularity, both rappers boasted massive crowds. We started out in the thick of it for Kendrick Lamar, and it was fun (for a minute?) to "put our threes up" and jam out to his hits, such as "Money Trees" and "Poetic Justice", amidst all of the super fans. The Compton rapper kept theatrics to a minimum letting his flow speak for itself.
I feel like it's easy to say that Macklemore stole the show this weekend, but he really did. His first ever time in Montreal, he pulled another first that wooed the audience—asking Canadian sweethearts Tegan and Sara to join him on stage to sing his massive hit, "Same Love". The result? Magic.
Prior to this weekend, my experience with Yelawolf had never extended beyond casual YouTube listening sessions at parties. However, his bad boy party vibe and endless tattoos always left me intrigued, so he was on my "definitely must-see" list this weekend. On stage at 2pm during one of the only super hot moments of the weekend, the rapper set the tone for the day and made for an energetic dance party and mosh pit. Huge crowd. Hot sun. Killer flow. Unexplainable appeal. He's worth the hype.
Jimmy Eat World and The Gaslight Anthem were my "bucket-list bands" for the weekend. For any of you who grew up listening to "emo" music in the early noughties, I bet you're with me on the Jimmy Eat World excitement. An old favourite I've never seen live, that I finally got to see live. And any band who has been around as long as they have know you want to hear all the hits—so it was nice to see them reach into the back catalogues and make teenage dreams come true.
The Gaslight Anthem is another band I've been hoping for a chance to catch live and I'm glad I finally did. Brian Fallon. C'mon. A tattooed babe with a guitar, a husky voice, and a down and dirty rock sound. I've said it before and I'll say it again, their albums are the perfect—nay, only—soundtrack you need for the summer.
We got caught in the rain during the Silversun Pickups set, but his voice and that rain… it was an unbeatable combo. The band was so gracious and thankful to be playing Osheaga, stating it was their biggest crowd yet, and you felt the magic as they reached the climax in their hit song "Lazy Eye,"—the crowd was loving it, singing every word, when suddenly the rain stopped and a double rainbow appeared. Momentous cheering ensued. Talk about an ending.
Rock legend The Cure was one for the books. Robert Smith was rocking smeared red lipstick, wild hair and smudged black eyeliner, and sang every hit in their book. Due to schedule conflicts, I missed my fave throwback tune, "Just Like Heaven," but we did get to the stage in time to hear Osheaga cut the speakers on their final song, "Boys Don't Cry", as the set snuck past the 11pm noise curfew (the only time they did this all weekend). Nice to see that Smith and the boys are still rock-n-roll rebels even in their old age.
Stars and Beck were both pleasant surprises of the weekend. I can say for both bands that I'm semi bored when listening to their music, but their live performances had so much more gusto and energy than their albums give them credit for. Both had the audience enraptured, as fans sang along to every word and broke out into small dance clusters when favourite songs came on.
Beach House may win the title for dreamiest band at Osheaga this year. The Baltimore duo wowed me despite not being overly familiar with their music, and, for me, that's the sign of a good live show. When you can pull me in when I don't know any of the words to your songs, you're golden. It didn't hurt that they scored an extra long set thanks to Azealia Banks' cancelled slot, and had a mesmerizing light show to support their equally mesmerizing and haunting sound.
Two years ago when Ellie Goulding played Osheaga she was on a small side stage with a small crowd, and seemed pretty nervous to be there. Now, her audience took up the entire main stage field and the hill beyond it (and I mean entire—we were hard pressed to find room to stand). Switching between instruments, never missing a beat as she sang hit after hit, the Brit songstress hustled that stage like a pro—in a sports bra emblazoned with "Dimepiece", no less.
All good festivals need a happy dance break, and Charles Bradley and Rich Aucoin satisfied any and all urges to dance this weekend. With his first album just released, the Screaming Eagle Charles Bradley has been on the music scene for years. Well known for his soul and eclectic dance moves, he had the audience swooning and swaying along with his every word and move.
Halifax's golden boy Rich Aucoin entranced a pretty huge crowd late into the night with his live show that never disappoints. The woodsy setting at the back of the festival grounds was a perfect backdrop to his confetti shenanigans, catchy tunes, and the massive dance party that ensued. To say that he repped Halifax well would be an understatement.
If you asked me to pick a favourite performance from this weekend, I would tell you that's an impossible choice to make. However, Mumford and Sons would be an easy contender. Having seen them before, I knew what to expect—nonstop energy, infectious intensity and passion, and endearing stage presence. True to form, they gave a solid hour and 45 minutes of that. But what took me totally by surprise? The confetti finale. I can't even tell you how much white confetti flew out of canons lining the stage as the band wailed "The Cave" to end the weekend. The sky turned white and you couldn't see a thing, all you could do was listen and sing and dance.
Thanks for another great year, Osheaga.