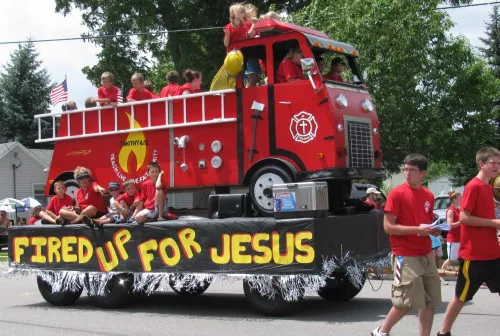 Winner of Best Float Award
It is so great to be in a place like Oshkosh for the fourth of July. It is full of all the Norman Rockwell things that are good about America.
Oshkosh has been for me a place of myth and importance for a long time, for two big reasons.
First, at the start of grade ten or eleven I walked into the gym at Ridgemont High School in Ottawa and found a new girl. She was shooting baskets. She was wearing a strange and exotic garment that I hadn't seen since kindly farm types inhabited Dick and Jane primers: denim overalls, brand Oshkosh B'gosh. Anne McClellan had moved form Colorado; she and I became friends and she sent home for a pair of Oshkosh B-gosh overalls for me. I wore them for spring skiing at Camp Fortune.
In 1986 I moved to Nova Scotia and one of the first people I met was Sally Ann Schleinz Millman, a teacher living in East River Point who drove into Halifax for Tai Chi classes. I cadged rides. Sally was born in Arkansas but really was from Oshkosh and over the years I heard stories about Oshkosh.
So recently I cross into Wisconsin from Minnesota and while in Superior learn via email from Sally's husband Greg that Sal is in Oshkosh, looking after her mother for a while.
So I walk three days and a bit to Ashland and then by bus and a lucky hitch hike make my way to Oshkosh and the home of Sally's mother, a small house set back from the road on Ohio Street.
Melba's house on Ohio Street
This is so great. I am pleased as punch to see Sally, to see her in Oshkosh, and to be somewhere particular for the 134th birthday of the U.S. of A.
Sally's mother is Melba Lee Brummett Schleinz Brusius who was born in November, in 1922, out in the country in Arkansas, Stephens being the closest town. Melba is the oldest girl of seven kids and when her mother died of the TB when Melba was 15, Melba quit school to look after the smaller kids. The youngest was three months old. Her mother's name was Sally and that's how come Sally is Sally.
Melba now is small and in a way frail, but in another way a tremendous scraper who is a force to be reckoned with. She can wither you with one good stare. She likes pecans. Her great grandfather John Wynn was the keeper of Robert E. Lee's horse Traveler.
A few weeks ago she had some kind of a spell, and Sally came from Nova Scotia to look after her. Another daughter, Sandy, and son, Omrod, live in Oshkosh or just outside of it, but Sally is the one who can look after things in her family, as my sister Sue is the one who can look after things in mine.
Anyway the result is that in the morning of the fourth, after Sally has hung up the stars and stripes we drive out to the next town, Omro, and see a real Joo-lie 4th parade. It's about ten miles.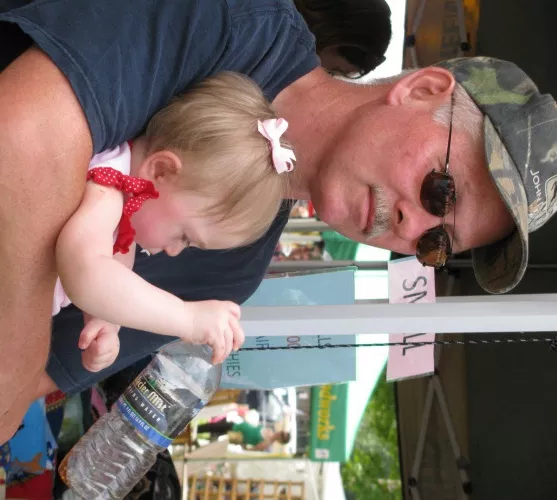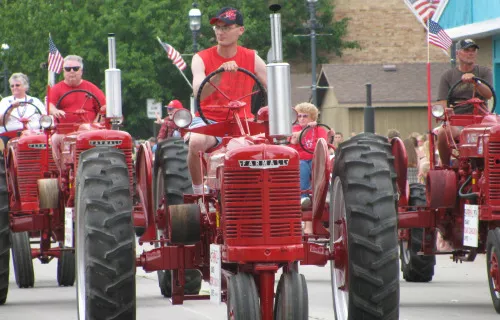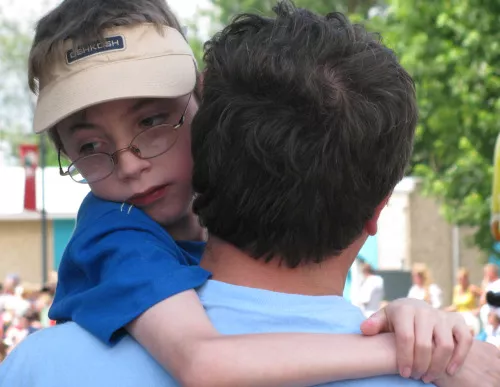 Cousin Debbie's husband, Gary, and Tyler
We drive back to Oshkosh and pick up Melba and Sandy and make our way back to Omro for a dinner at Omrod's. His wife Sue makes cheesy hash browns and a salad with sunflower seeds and baked beans while Omrod grills Cornish hens.
Then we go back to Oshkosh to drop off Melba who is feeling a bit too unsteady to walk on uneven ground in order to see the fireworks.
For the third time we drive back to Omro. We have lawn chairs, Sal, Sandy and I, and we meet up with Omrod and Sue. It sprinkles a bit and five umbrellas appear and we are all covered and content. Kids are running around playing with ray guns and light sabres. American flags waft from poles. Then we tilt our heads back and oooh and aaah.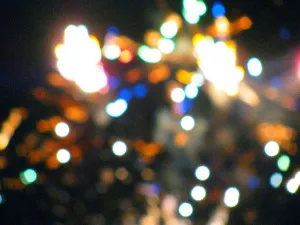 It's ten o'clock as we drive back to Oshkosh, by farms and small thickets of trees. Here fireworks are legal. Folks buy roman candles and burning school houses and swirly comets and set them off. Every little town has its own fireworks display. Remember during the start of Blade Runner? There's a skyline view of the landscape of Los Angeles in 2019 and here and there big flames spume up into the sky? While we are driving home through the fields I can see small poofs of fireworks all over the land, here and there, little towns and farms sending the blooms of lights into the sky. It's very lovely, and easy to pretend this is the apple pie counterpart.