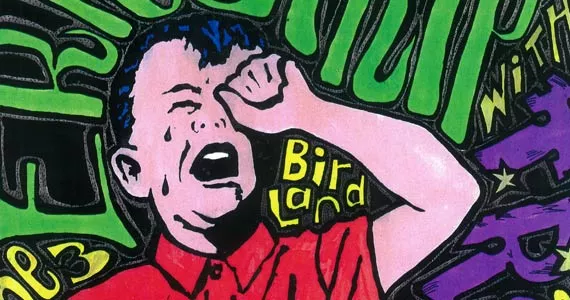 In the 1990s, the art of Scott Tappen was Halifax's visual representation to the prying eyes trying to take a peek at the "new Seattle." Perhaps expecting to see a quaint fishing town that somehow tripped over grunge, Tappen's posters were a point of pride---skillfully done, fun and inspiring. In short, he made us look good.
He began by designing posters for his own band The Quahogs, then went on to work with the Super Friendz, jale, Buck 65 and the like. Tappen passed away too soon of cancer in 2000, and while this retrospective is not a memorial, it's a testament to his talent and influence.
Artist Sherry Lynn Jollymore was close with Tappen, and had wanted to put this show together for the past two years. "We were good friends," Jollymore says. "It kind of just needs to be shown. I don't want to be heavy on nostalgia but I think it's important because his talent never really got recognized. When Scott passed away I was living in California, so I didn't really get to mourn with the community---not like this is a memorial but his art was at his wake and I didn't get to see it, and it's so nice to see the work in all one place."
The pairing of the show with Halifax Pop Explosion was an easy choice. "It's such a no-brainer, I mean, he did all branding for Halifax On Music," says Jollymore, referencing an earlier incarnation of Pop Explosion. On the heels of Yorodeo's poster show at Parentheses Gallery, it was another happy coincidence. The musical component wraps up tonight, another nod to the present and the past with established musicians playing free all ages shows in the gallery with newer artists. Tonight features Mark Grundy and Al Tuck at 5pm.
"I feel like it's a continuum, all of it contributes to scene tomorrow," says Jollymore, discussing the past and present of poster art and alternative music in our city. "I see it like building blocks---the foundation is strong and you hope that people understand that there have been people before you doing the same thing. I don't mean any disrespect but it's like standing on shoulders--- you have to pay respect to your elders who did it like you, always with nothing.
"He was working before computers. He would break it down into layers knowing that they were going on photocopiers, he was totally working with that, not against it. I found it heartwarming and admirable; he thought, 'What tools do I have? What's affordable?' He would know what couldn't be reproduced for the---often broke---band."
The show features sketches, around 50 posters, some originals and three Coast covers. There was a lot of "weird small-worldness," says Jollymore. Eleanor King of Anna Leonowens Gallery knew Jollymore was working on the project and called her about a cache of posters that had been collected for the Snapped Crackling Pop exhibit in 1997, but had never been retrieved from the gallery. "No one ever picked it up from Anna Leonowens. I ended up getting all of his posters from that, about 15.
"Aesthetically I feel like he really branded this town," says Jollymore. "I don't want that to sound dirty, and I don't want to be like 'Remember when?'---but when we were getting a lot of attention as a musical town he was there."
After the exhibit wraps up, a large format poster will hang in the Marquee as an attestation to where we came from as a music-loving city. Pro Skates' Zach Tovey selected and paid for the mounting of an old Chinstraps poster, from a show at Birdland. "Everything has very lovingly come together," says Jollymore. "There was no funding for this, it was all out of pocket. It's been all love, love, love."