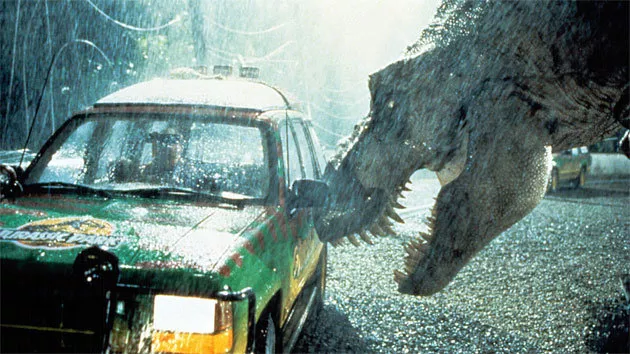 First it was Bill Murray, then it was Johnny Depp, now Steven Spielberg joins the crew of men honoured at the Outdoor Film Experience (rebranded after 12 years from alFresco filmFesto).
While I've no doubt that Spielberg will bring out the punters (I've been watching a lot of Kitchen Nightmares lately), in light of this week's heavily shared, heavily amazing article by Linda Holmes for NPR.org, I admit I had my heart set on a Summer of Streep. I will take solace in the fact that Jurassic Park is a) awesome and b) passes the Bechdel Test.
The location: A 30-foot inflatable screen at the end of the Halifax Waterfront Boardwalk (near the Halifax Seaport Farmer's Market)
The schedule:


Friday, July 19: E.T. The Extra Terrestrial, 1982, 115min (Rated PG)
Friday, July 26: Raiders of the Lost Ark, 1981,115min (Rated PG) 

Friday, August 2: Jaws, 1975, 124min (Rated PG) 

Friday, August 9: Catch Me If You Can, 2001, 142min (Rated PG) 

Friday, August 16: Jurassic Park, 1993, 127min (Rated PG)
Friday, August 23: People's Choice vote between Minority Report, War of the Worlds, and Close Encounters of the Third Kind.
*Vote on Facebook by noon, August 16th. The winning film will be announced just before the Jurassic Park screening.
This year, before each film, the Outdoor Film Experience (I don't fear change but this name is kinda tough to Google) will screen an Atlantic Canadian produced short film. This is a joint presentation with CBC, called Summer Shorts.
As always, bring your blankets and chairs, screenings start at dusk and gates will open one-hour prior. In the case of rain, films will screen the following evening. Please check for rain date updates at atlanticfilm.com/festivals/aff-ofe/outdoor-film-experience.