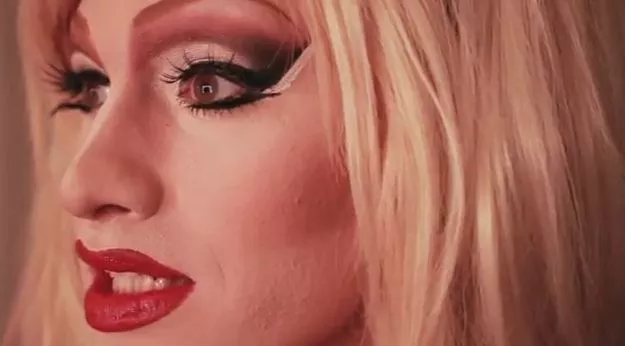 A still from Drag Becomes Him
OUTeast Queer Film Festival's 2015 program has been announced, offering a welcome chance to see some films that would never see the light of a big screen in Halifax otherwise—and puts the spotlight on queer independent cinema. We're on board. Their highlights from tonight's announcement are as follows:
Before the festival program begins, OUTeast is proud to offer a screening of acclaimed art history documentary Packed in a Trunk at the Art Gallery of Nova Scotia on Saturday, June 6 at 2:00 PM. This moving film tells the story of 1920s Provincetown artist Edith Lake Wilkinson, who was committed to an insane asylum after being outed in 1924.

The official festival film program opens at the Spatz Theatre on Thursday, June 11 with the Opening Night Gala - The Amina Profile, winner of a 2015 Hot Docs International Documentary Film Festival Special Jury Prize. The incredible true love story of a Montrealer and a Syrian revolutionary spins into an unprecedented media and sociological thriller that is not to be missed. The gala continues after the screening with a Toast to Opening Night with Rosie Porter and the Gala Reception.

Friday's program opens at the Museum of Natural History with the old Hollywood glamour of Tab Hunter Confidential, from OUTeast favorite Jeffrey Schwarz (Vito, I am Divine). Next up: the critical darling and very dark comedy Nasty Baby, starring Sebastian Silva, Kristen Wiig, Tunde Adebimpe and Alia Shawkat. After the screenings, OUTeast will partner with Retro @ the CoHo for dance party Pop in the Name of Love at The Company House.

Saturday morning will see the introduction of OUTeast's conference programming, Behind-the- Scenes. With diverse panel and forum industry discussions through a queer lens, OUTeast provides further opportunities for exploration of the content and themes of the film program.

Saturday afternoon features two sensational shorts programs - at 2:00 PM, Homegrown Homos: Canadian Short Films, and at 4:00 PM All the World's Our Stage: International Short Films. Both shorts programs are sponsored by The PostMan. At 6:30 PM, OUTeast presents the delightful Dutch coming-of-age romance Summer (Zomer).

Saturday night, OUTeast moves over to Menz & Mollyz Bar on Gottingen Street with a drag- stravaganza featuring documentary Drag Becomes Him, chronicling the adventures of Rupaul's Drag Race winner Jinkx Monsoon. Following the screening, we'll be hosting a Queens on Screen dance party with DJ Jules Bangsworth.

Sunday starts off with a spotlight on Atlantic Canadian creators. At OUTeats Brunch, we're thrilled to put a spotlight on the upcoming Nova Scotian feature film North Mountain, written and directed by Bretten Hannam. Bretten will share stories from the set and give us a sneak- peek into the world of the film and its creation.

Sunday afternoon sees the world-premiere of the Work-in-Progress short films, created by a group of young filmmakers in partnership with The Youth Project and under the mentorship of Stephanie Young. In addition to these locally made shorts, the screening includes an incredible program of youth-made and youth-focused shorts from around the world.

The film program closes Sunday afternoon with Game Face, an inspiring documentary that follows the journeys of transgender MMA fighter Fallon Fox, and gay college basketball player Terrence Clemens, as they search for their place as LGBTQ athletes in America.

Out of Your Seats, OUTeast's satellite program of short works, will be running from June 12-14 at the Museum of Natural History and at the Dart Gallery on Portland Street, Dartmouth. 

OUTeast's Filmmaker-in-Residence Beck Gilmer-Osborne's new film will screen as part of Out of Your Seats.

All tickets, and a limited amount of All-OUT, all-access passes are available online at outeastfilm.com, ticketpro.ca, and through Ticketpro outlets. Opening Night Gala tickets are $15, champagne reception included. All other screening tickets are $12 & brunch tickets are $10 each, with the All-OUT, All Access Festival Pass available for $60.