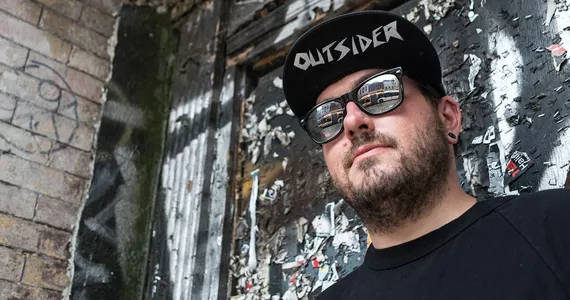 Anica james
"We can help, we're all a big happy family," says Gavin Quinn
"We're ever-growing and ever-evolving. The project isn't going to stay the same, we are going to morph and be there for other people." Gavin Quinn is talking about future plans for Outsider Insight. It's a peer-based support organization that helps artists with mental illness further their careers with practical resources like creating a portfolio, accounting, writing an artist statement and public speaking.
Each year, Quinn and partner Justine Dollard—gallery administrator at Veith Street Gallery, Outsider Insight's unofficial headquarters—and an army of volunteers and supportive businesses put together workshops to that end, reaching out and channelling the therapeutic power of art into a transformative tool for artists with mental illnesses. They also organize exhibits, like an upcoming show at The Detergency Room with Ingrid Singing Grass, and social events like a BBQ at the Veith Street Gallery on August 23.
Outsider Insight is open to all interested in volunteering or using some of their resources and furthering their art practice. "The game plan is first to set up a meeting at Veith Street Gallery, see if they fit into a current project, look at their work and help them on their way," says Quinn. "If you self-identity as living with a mental health disorder and do anything artistic—sculpture, graffiti, creative writing, anything—we can help, we're all a big happy family."
In the downtime between the next round of workshops, Quinn and Dollard are working as hard as ever. "If you live in Halifax you've probably gotten a sticker or pamphlet from me," says Quinn. "I'm always on the streets raising awareness about the program. Mental health is something that should be talked about all the time, we have these stickers that say 'we support mental health recovery' and 'fuck stigma', we sort of guerrilla marched in the Pride Parade handing those out."
Outsider Insight member Dillon Poberezhsky is working on a documentary about the program and shot a promo video with John Dunsworth, Quinn was named emerging entrepreneur of the year from Entrepreneurs with Disabilities Network's 2014 Entrepreneur of the Year Awards, and the group is working to form another branch of Outsider Insight in New Brunswick.
And it all started with a first, admittedly difficult step, proving the power of community. "I'm out of the closet as a mental health consumer now, the program stemmed from me having a manic episode ending up in the hospital," says Quinn. "When I got out I decided I wanted to help people.
www.outsiderinsight.ca