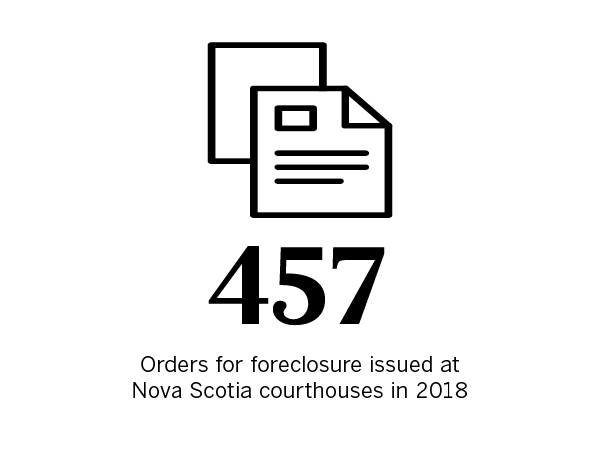 Foreclosure is perhaps the most dramatic manifestation of a huge problem facing Canadians: Skyrocketing debt. And the picture is particularly dire in the Atlantic region.
According the Canadian Payroll Association, 45 percent of Atlantic Canadians say they are overwhelmed by debt, compared to the national average of 40 percent.
And when it comes to mortgages, the region has the second-highest rate of loans at least three months in arrears (money that is owed and should have been paid earlier), about one in 200 mortgages. In Ontario, it's one in 1,000, and one in 400 nationally.
"We see a number of people who are back in Atlantic Canada earning way less than they used to and that's a factor when they end up coming to see us with financial trouble," says Stan Hopkins, a licensed insolvency trustee in Dartmouth. Nova Scotia has, on average, the second-lowest salaries in the country and nearly 50 percent of Atlantic Canadians are living paycheque to paycheque.
It could be that more Canadians than ever are living off of credit: For every one dollar of income, the average person owes $1.78. For many, high levels of debt equals financial vulnerability; any change in income can have a huge effect on meeting monthly obligations. This is especially true of Atlantic Canadians, many of who are just barely making ends meet.
Lars Osberg, a professor of economics at Dalhousie University, says that in the last few decades, there's been an "enormous shift of risk onto working-class people.
"They used to have benefits that paid for their pension in old age, they used to have better health insurance, unemployment insurance and they used to take in more reasonable wages. All those things have been cut back, so households in general are just facing a lot more financial risk," he says.
When coupled with an unexpected life event, such as an illness or death, job loss or marital separation, these factors can quickly brew into a perfect financial storm that precedes a foreclosure. (Not to mention systemic biases that afford certain populations benefits, and others steeper challenges.)
John Eisner, president of Credit Counselling Services of Atlantic Canada, a non-profit organization that assists borrowers facing financial trouble, says that help is available, but it's often not accessed until it's too late. He says that decades ago, we weren't seeing the financial problems of today's scale because the credit simply wasn't available. Now, quick access to credit makes it incredibly easy for people to live beyond their means.
Add in student debt—In 2015, the Canadian University Survey Consortium survey put the average debt among the 50 percent of students who finished with debt at $27,929—and the picture gets worse.
Credit and debt aren't inherently bad things— they've become a necessary part of our day-to-day lives. When used incorrectly, however, the results can be disastrous. Eisner says promoting financial literacy and education is key to helping Canadians navigate their way through today's financial battlefield. He also says it's important people know what their options are as early as possible. The sooner someone seeks help, the better.