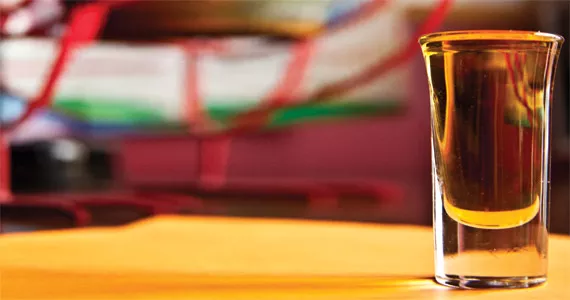 Thanks to this colourful selection of cocktails and shooters, this week you can drink proud too.
Tall Ship Silva
Queens Wharf, Halifax Waterfront, 429-9463
Hop on the Silva's ever-popular pride cruise and try a Rock Lobster. Whiskey, raspberry Sour Puss and cranberry juice make for a sweet and sour treat.
---
The Company House
2202 Gottingen Street, 404-3050
Sweeten your palate at one of Pride's home bases with their popular (and orange) Buttersnatch shot. You can't go wrong with butterscotch schnapps, you just can't.
---
Niche
1505 Barrington Street, 423-6632
Niche's patio is a prime post-parade drinking spot. Go mellow yellow with their Subtropica martini---a blend of Grey Goose vodka, peach schnapps, apricot brandy and pineapple juice
---
Menz Bar
2182 Gottingen Street, 446-6969
See green at this Pride hot-spot by testing their Green Monkey shot; it's an interesting mix of creme de bananes and creme de menthe.
---
The Fireside
1500 Brunswick Street, 423-5995
If your pre-drinks find you at The Fireside, chill out with a Mr. Freeze martini. Vodka, blue curaçao, Galliano and a splash of lime create an alcoholic blue freezie, and it's damn delish.
---
Reflections
5184 Sackville Street, 422-2957
Dance your pants off all through Pride week at Refs, with a Purple Haze in hand. The mix of blue curaçao, vodka, lime, 7-Up and grenadine, of course, will cool you down fast. And this week, you'll need it.