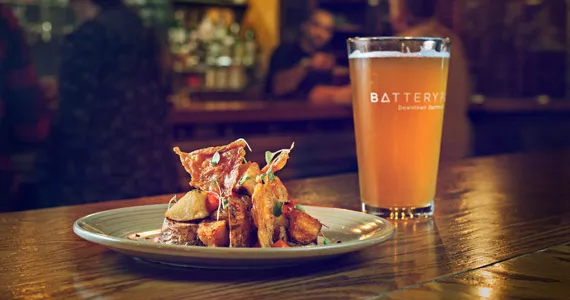 Yields four portions
Ingredients
2 lbs fingerling potatoes
duck fat
4 cloves garlic, chopped
1 shallot, brunoise
¼ cup pine nuts
½ cup red wine
½ cup chicken stock
1 cup roasted red peppers, chopped
4 sprigs thyme, picked and chopped
4 pieces of chicken skin

---
Method
Potatoes: Wash and halve the fingerling potatoes. Warm duck fat in a pot, then submerge potatoes in the warm fat. Cook at 275 degrees until fork-tender. Strain the duck fat and cool potatoes.
Romesco: Sweat garlic and shallots in a pot with canola oil. Add pine nuts and toast, then deglaze with red wine and reduce by 50 percent. After the wine reduces, add chicken stock and roasted red peppers. Cook until stock
has reduced by 25 percent. Add chopped thyme. Simmer for 20 minutes, then puree in a blender until smooth. Check seasoning and cool.
Chicken skin: Lay chicken skin as flat as possible between two sheet pans, with parchment paper on both top and bottom. Season with salt and pepper, then place in a 300-degree oven for 30 to 60 minutes until crispy and golden brown.
To plate: Deep-fry the confit potatoes until crispy, then toss in chili flakes and salt. Place on a plate with dots of romesco sauce and top with pieces of broken chicken skin. Serve.
---
Battery Park Beer Bar
62 Ochterloney Street