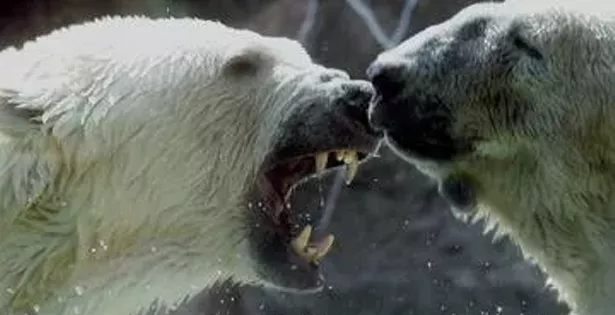 My favourite comment on the medal drought comes from a commenter on the CBC blog. Cheek Monk said we shouldn't fund olympians at all. We should make them train in the Canadian wilderness, against bears, wolves, blizzards and beavers.
Alright. Maybe that idea has legs. But - there are a lot of Leafs fans in this country. Do we turn them out into the wilderness because they are losers? As a Canadiens fan, sometimes I think we should, however, I am slowly but surely getting used to losing, too.
Losing becomes a self-fulfulling thing unless you fight it. I searched online commercial databases for articles about Canadian failure at the Olympics. Over 200 appeared, but I am sure more have been written. On Athen's closing day the late Mark Lowry, an executive for the Canadian Olympic Committee, said the world was leaving us behind. Nice one, Mark. Good for morale. Soon after, former Swimming Canada coach Dave Johnson was canned for not getting enough medals. Someone's head had to roll.
The world isn't just leaving Canada behind, as Lowry said. Big spenders like the USA and China squeeze medals from all the middle powers. Where else do they pick those golds from? France, the UK, Austria, us. All the middle class countries. Do we want to be like the big shots? Maybe in our collective imagination, but in reality, I doubt it.
So what if the game's stacked against us. It's - bleh - money. Personally, there is no way I want the government to spend American-style ego-propping dough to place us in the top 5 medal earners for Summer and Winter games. What is the British medal count in the Winter Olympics? Australias? Right, mate. Low. They've made their choice. Spend that money on sending artists abroad instead.
Pep talk time
We've won before. We'll do it again. Sometimes a little self-confidence is enough. Old fashioned gumption can still win the day! That kind of winning is so much sweeter. We won three medals in our last day at Athens and I remember all the same hand-wringing during the first week of those Olympics, too.
We got a young team of Olympians. Mostly. They'll grow into it. There's London. Canadians are not soft serve. We're just the mid-range that happens to be slightly out of range. We love to be at the party. Nothing wrong with that. We have been, and always will be, the home for the mutts of this world. Go mutts! And if you have a problem with that - start training, pioneer style, buddy. Like Rocky, with logs and turf and wolves and sides of beef. Get hungry, Canada!