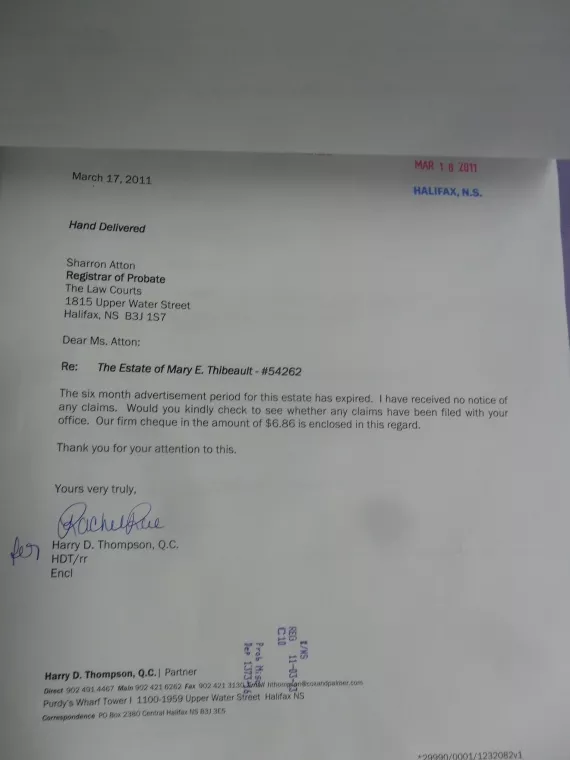 As of Tuesday, mayor Peter Kelly has still not completed his duties as executor of the estate of Mary Thibeault.
As The Coast revealed in an exclusive report earlier this year---see "Peter Kelly's Failure of Will," March 24---the 91-year-old Thibeault died in her St. Petersburg, Florida home on December 7, 2004. A former Bedford resident, Thibeault had named "my friend Peter Kelly" as executor to her estate, then valued at about a half million dollars. Kelly was also one of 18 heirs, and would himself receive about $25,000 from the estate. Most of the other heirs are elderly.
After being appointed executor of Thibeault's estate on March 24, 2005, Kelly repeatedly missed legal deadlines, ignored letters from the court urging him to file paperwork, neglected to advertise the estate settlement in the *Royal Gazette* as required and otherwise failed in his duties as executor.
Just before The Coast broke the story in March, Kelly obtained the services of a lawyer who exchanged some paperwork with the court. The most recent document in the file is a March 25 letter to the lawyer confirming that there are no claims against the estate. The file now appears moribund, and none of the voluminous accounting that accompanies settlement of an estate has been produced. As of this writing, a probate settlement that should take 18 months has dragged on for six years and seven months.
You can read the entire court file for yourself, here. I apologize that the slideshow isn't in perfect chronological order, but most every document is dated.