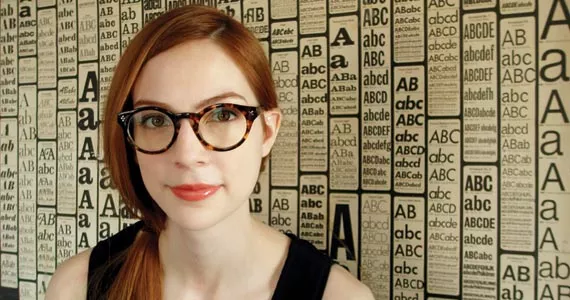 Meags Fitzgerald loves photobooths. In fact, she loves them so much she wrote and illustrated a 277-page graphic novel dedicated entirely to chemical photobooths. Photobooth: A Biography exposes the history and cultural significance of those unassuming huts that fade into the background of public places like shopping malls and bus stations.
In the mid-20th century, photobooths enabled the democratization of portrait photography. "They made it affordable and accessible," explains Fitzgerald, "and they weren't judgmental of the people using the booths, of the sitter.
"They also documented huge amounts of marginalized populations," she says. "In the States it was the African-American communities and gay couples. It was really significant for gay couples, because you couldn't go into a regular portrait studio and have your picture taken with your lesbian partner. Photobooths were sort of the only way to do it—in the privacy behind the curtain."
At a young age Fitzgerald found herself experimenting behind photobooth curtains. "I started using them as a teenager and felt that they were an instant art-making machine for me," she says. "They became a major creative outlet for me in high school, a place to explore and a private space to escape to."
Unfortunately for photobooth devotees, the contemporary proliferation of inexpensive digital photography means chemical photobooths are becoming little more than an obsolete curiosity, being removed and replaced by new digital photobooths. "The timing of the book, right now, is really because photobooths, the chemical kind, only have about a year left in Canada before they'll be entirely removed," says Fitzgerald, "and only about five to 10 years left in the rest of the world."
Fitzgerald is not alone in her photobooth fandom. "I found that there was a community of other people who also were obsessed with these vintage chemical photobooths," she says. "There's an international community of people who are trying to preserve them, so I joined that movement."
Fitzgerald's passion developed from a teenage hobby into an adult occupation—she was offered a job in Chicago with one of the world's only vintage photobooth restoration companies. There Fitzgerald met her photobooth soulmate and the cover model for her book—the Auto-Photo model 11A. "I sort of fell in love with it and I felt very close to it, using it the way that I did all the time," she recounts. "That particular photobooth was designed for prisons, actually, to take mugshots, and had just been found and refurbished by the studio. It takes the nicest photos you've ever seen. It makes me think that somewhere out there are a whole bunch of police records of criminals that have these beautiful portraits."
If you want one last strip of your own beautiful portraits, grab a handful of toonies and head downtown. "The best one in Halifax is in Scotia Square," says Fitzgerald. "It takes the most reliable, most crisp photos."
---
Photobooth: A Biography launch
Friday, August 15 at 7pm
Maritime Museum of the Atlantic, 1675 Lower Water Street
www.photoboothabiography.com