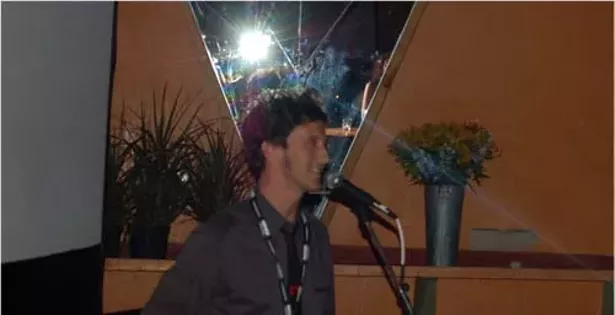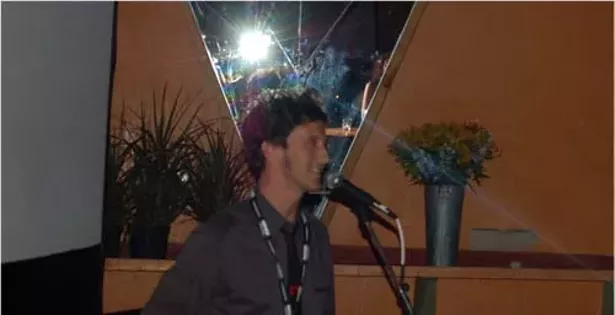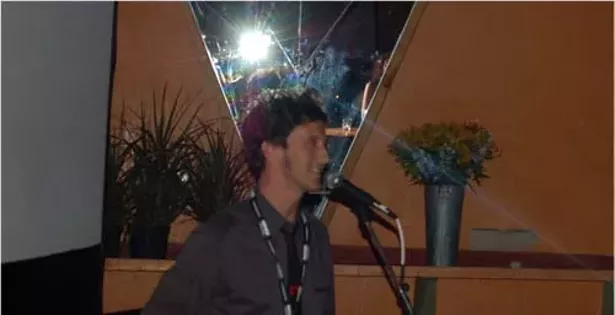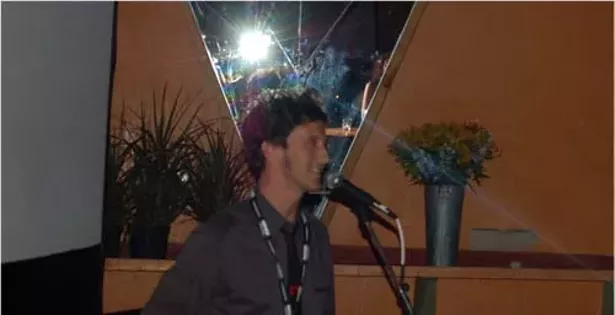 Well, that's all over with. I'm in my house clothes (I successfully wore a dress for every day of AFF), eating fresh food and watching the Emmys. Jeremy Piven again? Really? Speaking of which, the "real-life" Ari Gold was in town for AFF (apparently his name is stitched onto his Reebox): Gold is a filmmaker and plays ukelele and keyboards for The Honey Brothers, with Entourage dreamboat Adrian Grenier.
Quick recap of the last couple of days: saw Choke with Sam Rockwell. I wasn't expected much from this film (I thought because it was based on a Chuck Palahniuk novel, it would be pretty bloody) even though I'm a Rockwell fan. Turns out it was actually pretty funny, and also catered to my lifelong obsession with costumed workers (Rockwell plays a sex-addicted historical interpreter).
Then it was off to the 10x10 music video screening. Norwood Cheek, who runs the program which pairs up local directors with musicians, is an incredible person with a really eclectic career--he was even a voice on a few King of the Hill episodes and has directed videos for SuperChunk, Ben Folds Five and The Donnas. According to Wikipedia, " In 2003, he coined the term cobwit." I wish I had known that before.
All of the videos were great, especially considering they were created in three days, but I loved Sue Johnson's video for Ruth Minnikin (and that song is super!) because it really reflects the singer-songwriter's natural charm. And the In-Flight Safety 1950s diner video, directed by Andrew Stretch, blew me away, and once again proves my opinion that Dan Ledwell should be on the big screen, breaking hearts. Check out that face!
OK. Is anyone else watching the Grammys and Josh Groban's TV theme medley? Wow. It's creepy that he can sound like South Park.
Following her gorgeous video, Christina Martin took to the stage. She definitely didn't look like she had been up to 4am shooting her video, just two nights before.
Yesterday, I went to the closing gala of Summerhood. Director/actor Jacob Medjuck showed off his stand-up comedy past introducing the film, and seemed genuinely overwhelmed that there were three sold-out screenings that night. Medjuck really gets 10-year-old boys and allows them to be as potty-mouthed, slobby and destructive as they really are--he doesn't clean them up at all. I have to say though that other than the John Hughes 1980s-inspired soundtrack, the film belonged to those kids, in particular the lovelorn lead, Lucian Maisel. I was freaked out because Maisel looks so much like photos I've seen of my husband as a child--with those worried big brown eyes and homegrown bowlcut--that I realized, if we have kids, I might have a little dude known to everyone as Fetus.
Dinners: New York Fries, bean burrito, beer
I tried to get to the closing gala but I just couldn't do it. And that's OK. It was a full 10 days. This was my fifth AFF--I've gone every year since I moved to Halifax--and I am so impressed with the quality of Atlantic Canadian films and programming and acting and etc. Let's just hope that whatever happens with the federal election, this level of fine storytelling is able to survive financially. If you saw one film or had one friend who was involved in an Atlantic Short, or just enjoyed all the pretty people on Argyle, think about where you're going to stick that ballot on October 14.