German filmmaker
Wim Wenders
doesn't often show up on the lists of beloved auteurs these days, due to his recent career spotted with a few duds. That said, he's earned some kudos for his documentaries, and with
Pina in 3D
, his achievement in this form won't be denied. The film is a tribute to
Pina Bausch
, the revered German modern dancer and choreographer. Members of her company recreate her pieces in a variety of settings, from the stage to busy city streets, within elevated trams, in modern buildings and the German countryside. This is a dance movie, and as such it has little through-line narrative, but is enormously evocative in the movement of the dancers, many of whom are in their 50s and 60s now. Their age must bring a different aspect to the pieces than when they were originally performed, a sense of fragility and mortality. Even more so since Bausch died in 2009 and the dancers' voice-overs speak of her brilliance and influence. As a relative layperson to modern dance and not knowing Bausch's work at all, I found the film mesmerizing and astonishingly beautiful. The dance and imagery manage to communicate with clarity loss, longing, passion and loneliness.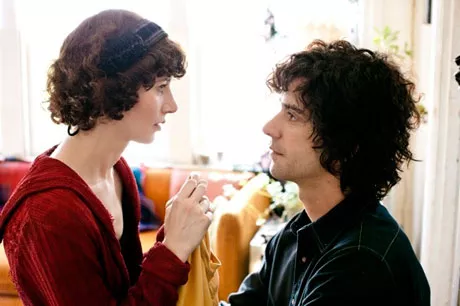 The Future
is Miranda July's first feature since she blew most of us away with her lovely
Me And You And Everyone We Know
in 2005. Since Coast contributor and film nut
Tara Thorne
shared her love
of the film, I won't say too much more here, but that I disagree with many of her points. For one, the first half-hour was the funny part, because it's characters are so absurdly hopeless and anxious. Then, as it goes along, it becomes more truly sad and affecting. I was moved; it's really about a fear of change, fear of not realizing your dreams, fear of growing old and being alone. But if it wasn't grappling so consciously with those real world issues, it might be unbearably precious. So, while I didn't love it, I'm glad to have seen
The Future
and it did reinforce my conviction of July's unique talent. Plus, I learned a couple new things: July can be surprisingly sexy in her gawkiness. And she can really dance in a yellow t-shirt.