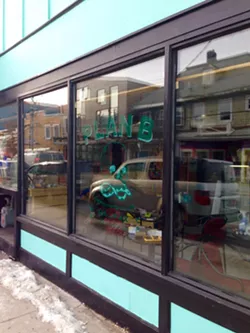 Plan B Merchants' Co-op (2180 Gottingen Street) is opening a cafe as part of its plan to re-organize the shop and stabilize its finances. 
This week it will begin serving coffee, and over the next month it will roll out its full menu. The grilled cheese, soups and hot mains such as Swedish meatballs and carbonara will be locally sourced as much as possible.

"You'll walk away from it and feel like 'yeah, I ate something,'" says Bob Chiasson, the president of Plan B.
 The long term plan is that the cafe will fund Plan B's operating costs like rent and heat. Currently, the costs are split between all the members of the co-op. Chiasson also hopes that the cafe will bring in enough money to do other things like advertise, repaint and create an emergency fund.

Last April, Plan B crowdfunded to pay its rent and bills because the harsh winter took away so much business. The cafe's revenue would aim to prevent this from happening again.
 In order to make room for the cafe at the front of the shop, Plan B had to undergo a facelift. The racks of vintage clothes were moved to the back of the store, the records were alphabetized and everything seems to have been dusted off a little. The co-op is looking fresh for its fifth year of business. 

"Five years is the point in a lot of businesses where people ask if it's viable or not viable. This is the sort of thing, it's like a sea change. We're jumping the shark here to see if after five years a change in our model will take us to the next five," says Chiasson.