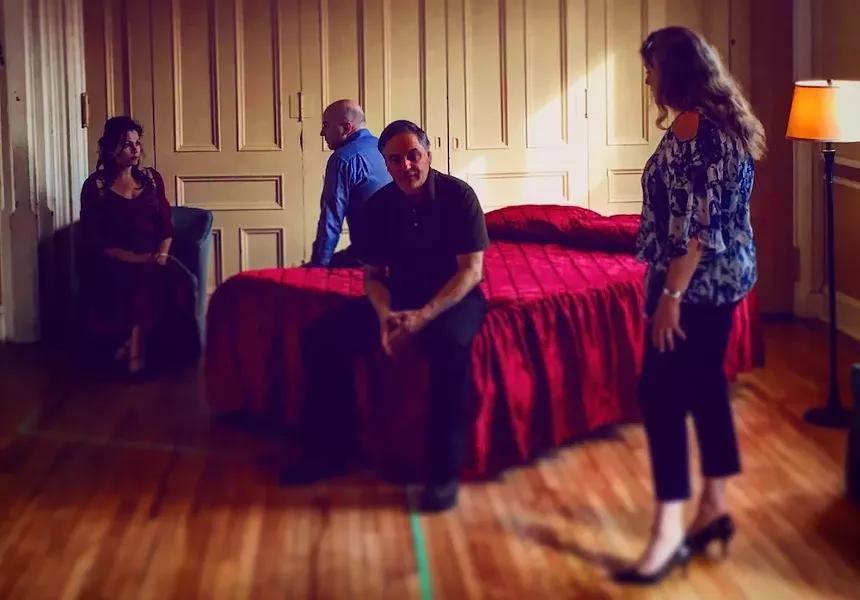 contributed by the production
Francine Deschepper, Michael Ferguson, Pamela Halstead and Theo Pitsiavas
 play two couples coincidentally cheating with each other.
Australian playwright Andrew Bovell's
Speaking in Tongues
begins with much promise. The set, music and lighting design are eerie and evocative, and the opening scene is a beautifully choreographed introduction to the characters and their world.
The first half of the play tracks two couples coincidentally cheating with one another, their infidelities trapped in a claustrophobic foursome. At one point, the unfaithful spouses deliver laboured monologues about a mysterious encounter with a stranger (did that man vanish? did our neighbour kill someone?), appearing more invested in these stories than the facts of their own lives. The monologues seem irrelevant until we realize we are spending the play's second half with its characters.
contributed by the production
Act two involves a dull mystery, a series of impossible coincidences and dialogue so pedestrian that it verges on parody. There are twists, turns and reveals, but they feel always to come from a writer with an inflated sense of his own cleverness rather than from real people. It is a disappointment when a talented and capable creative team can't break free from an unredeemable script.
Speaking in Tongues
 By Andrew Bovell
Presented by DMV Theatre/Neptune Open Spaces

Directed by Matthew Thomas Walker

Featuring Francine Deschepper, Michael Ferguson, Pamela Halstead and Theo Pitsiavas

Design by Aaron Collier, Katherine Jenkins-Ryan and Ingrid Risk
Neptune's Scotiabank Stage
$17-$25
Runs until January 29