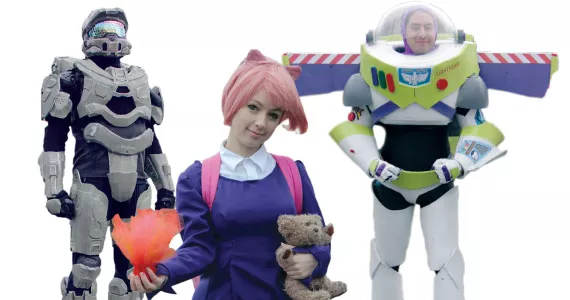 With its origins in Japanese fashion, cosplay has become a comic-con phenomenon and a form of art and design that reaches competitive levels. Hal-Con's own Costume Contest has strict criteria and various categories of awards depending on the intensity of fabrication. For local cosplayers, it's game time.
"I started going to Hal-Con in the '80s but about four years ago, I was looking for a hobby," says Art Forward, who created Master Chief from military space game Halo (1). "I wanted a character that was popular, recognizable and that would also blend in." The complexity of costuming is up to the creator, but the competitive atmosphere keeps cosplayers motivated to outdo themselves year to year. There are a number of panels at Hal-Con that focus on costume troubleshooting, makeup and new techniques.
"I like crafting and building stuff and it takes a mixture of skills," says Peter Wilson, who spent about six weeks working on his Buzz Lightyear costume after being inspired by the Maritime Heavy Armour group's focus on armour design. (2) Made of plywood and EVA foam, his design required wiring electronics and repurposing household items, and his interest came from a childhood love of sci-fi and outer space.
For most cosplayers, there's a spiritual connection between the player and the characters they choose. When Tiffny Brooks realized she wanted to cos-play, she was surprised to find a whole community. This year, she's Annie from League of Legends because the character is "cute, adorable and a little sadistic," she says. "She's all around perfect." (3) Cosplay can be simple or intricate, and it's always for fun.
From the steam-punks of the Jules Verne Phantastical Society to members of the Starfleet to Stormtroopers, Batman and Dr. Who, the range and variety of cos-play is a year-round marvel; most local societies meet regularly. Judging by the parade, Hal-Con's costume showcase will be out of this world. 

---
Hal-Con
November 7-9
WTCC

Costume contest
Saturday, November 8 at 5-7pm
Registration info at http://hal-con.com/costume-contest/