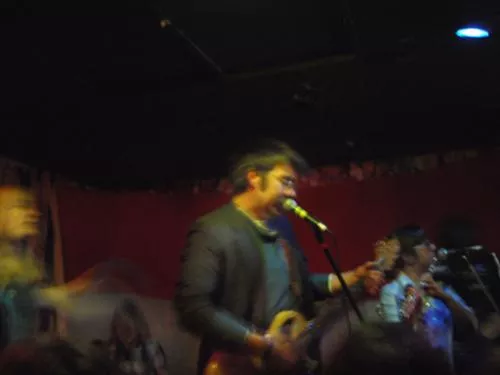 I first saw Entire Cities open for some friends from high school's now-defunct band, a couple years back, and one of my friends asked if I'd come to the show to see Entire Cities, which I might as well have (Not that my friends' band was bad. But they're broken up, and I can't remember what their new band is called to check them out). The chronically late high school friend who I was supposed to meet up with before the show came in between sets and I kept waxing poetic about the great band she'd just missed.
They decked themselves out in streamers and tinsel for the show and created a great party atmosphere to a completely packed Gus's. I think this might actually take the prize for being the most full I've seen the place. Entire Cities' shows are always a bit of a party, like a kitchen party or square dance.
Afterward I biked down to the Seahorse at lightning speed and made it for about half of Japanther's set, at another at or past capacity venue. The crowd was nuts, with a zillion flash bulbs going off per second and some videographer hovering his camera about two inches above my friend's head, and apparently a lot of heckling from the bouncers which I mostly missed. "We're not a band, we never signed any paper to be in a band...we're what happens when graffiti comes alive!" they shouted through their telephone-mics.
The crowd mashed its way down Argyle to the Toothy Moose for New York band Pterodactyl. The venue was a bizarre mix of drunk girls in stilettos and skimpy dresses and their baseball-capped boyfriends hanging out in the back, music fans in front. I suspect some people who couldn't get in trying shortly after I got there may have had a better chance in spikier heels. Coast front desk manager Ashley LeBlanc posted this overhead quote online: "Apparently it's indie night...but don't worry, all these hippies are leaving at 2!" The two crowds seemed to be able to ignore each other without incident, though.
Pterodactyl: far from extinct.
Arty with a psychedelic edge, they played an upbeat, seamless set to the group that hadn't come for schmoozing and vodka coolers. Things were late and crazy, though, and I want to check out this band more in a less chaotic setting.
I managed to grab a few words with Entire Cities about their tour over coffee on Friday morning (and they like coffee; just check out their song about it on Myspace).