I started out last night having dinner with a friend and catching Toronto band The Miles early, who were a catchy little start to the night, and then headed out to see Duchess Says and Teenage Jesus and the Jerks.
I missed AIDS Wolf's set, and I know a lot of people who like this band, but I also know a lot of people who feel the way I'll summarize with the review a new friend gave me when I ran into him outside: "I last saw them when I was 13 and wasn't really into it, so I wanted to see if I liked them any more seven years later, but they still sounded the same."
Noise-dance group Duchess Says played Gus's in 2006 or so (when they barely had a stage), and singer Annie-Claude Deschenes was dancing around through the audience, rolling on the floor and causing a general ruckus to about 30 people on a weeknight, as I recall. If you were there, picture that same performance from a stage in a big venue packed with people, and you'll have the general idea: better sound and lighting, louder, exponentially bigger. She crowd-surfed her way around the room several times, dancing through the audience and winding her microphone crowd around peoples' legs. They sounded awesome, and during the encore they invited the audience to climb up onto the stage and join them for a dance party, and Deschenes surfed through to the sound board and danced on top of it while the sound guy stood by with a worried look on his face. (He got a big hug for his troubles at the end.)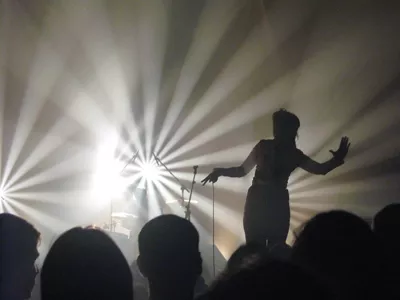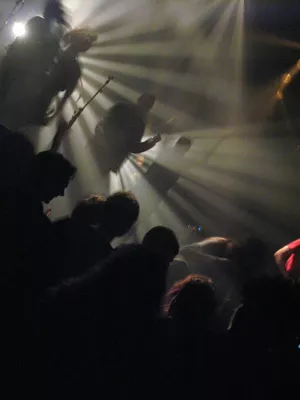 Lydia Lunch walked on stage and delivered quips like, "The fun stops here," and, "You want pain, I'll give it to you." Teenage Jesus and the Jerks played a short, sweet set, with the crowd shoving each other around and Lunch rolling her eyes at the mosh pit and emphatically shoving a guy off stage. I love the sour stage demeanour. She's like the Margaret Atwood of no-wave.
"There is no fucking encore," Lunch snapped, packed up her things and walked offstage. A couple idiots took that as an invitation to chant "encore, encore," but most people got it that that lady was serious.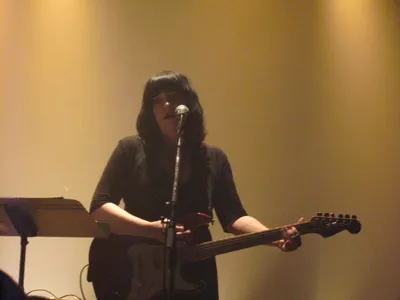 I made my way up St-Laurent, Pop ground zero, where a few local musician friends and I attempted to get into a handful of oversold shows with no luck, so we headed up to the Espace Reunion, a weird little building that looks like an architecture firm or condo sales office inside (and possibly, it is) north past the train tracks and amidst a series of warehouses-cum-venues. On the bill were Sam Shalabi and the Egyptian Light Orchestra, and Anthony von Seck and the Exiles. Both were quasi-psychedelic orchestral-pop acts with ten members or more and some dancing; of the two, I enjoyed Anthony von Seck more.
I feel like I don't entirely understand the indie-rock orchestra craze, like it was cool the first few times somebody added a trumpet and viola to their band, but now it's a competition to see just how many people you can put on a stage using the word "orchestra," "orchestre," or "orkestar," while still retaining your indie-rock cred and not turning into chamber music. I wasn't familiar with Sam Shalabi, but apparently he's been around the Montreal scene for a while playing experimental psychedelic, Indian- and middle eastern- influenced music. Half the crowd ended up lying on the floor on their backs with their eyes closed, and the music got drone-y and low-key. I felt like I was at a planetarium, except the ceiling had nothing but track lighting on it. There was one woman dancing on stage, and a girl doing some belly-dancing thing behind us who may or may not have had anything to do with the orchestra, as well as any number of people in flowing clothing shifting through the crowd. I'm also not sure how I feel about groups of mainly white hipster musicians playing middle eastern music. Shalabi's website mentions a lot about free improv, so maybe the shows are a hit-or-miss kind of deal, maybe I was too overstimulated from the festival to get it.