I started the evening out at Cabaret Juste Pour Rire, at a sold-out show with Slim Twig, Micachu and the Shapes, and Clues. I wanted to see all three performers, but only caught the first because I wanted to make the Butthole Surfers show down the way after Slim Twig played, and realistically, it's probably more likely that some young Canadian artists will hit up Halifax in the near future than it is that the Butthole Surfers will. (Don't quote me on that, though. I met some folks in a town of 10,000 in rural Latvia who'd seen Bell Orchestre in their hometown before the band ever made it to Halifax.)
Toronto's Slim Twig saunters around with skinny jeans and a puffy hairdo, and totally rejected Ellen Page in The Tracey Fragments. With a style like Suicide if they'd been a rockabilly band and of a social-networking Wikipedia-mashup generation, Twig is a natural performer, and does a great job of capturing the audiences' attention, whatever they think of the music. It's pretentious, sure, but then you find yourself in this headspace where you're like Ellen Page's desperate 15-year-old Tracey and you just want to embrace this guy's coolness, and when you come back you either walk out entranced, or turn to your friend next to you and roll your eyes.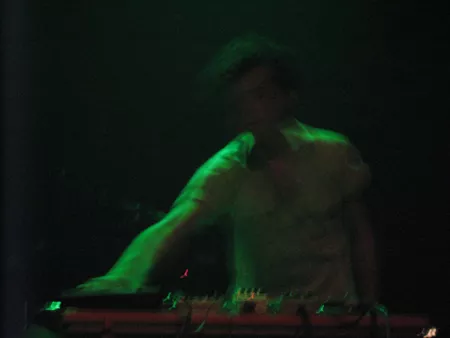 He stepped back from the mixing board, picked up a guitar and had a second guitarist join him on stage for the last few songs, and I think these were the strongest bits. I can't help but love anything that recycles the beats from Nancy Sinatra's "These Boots are Made for Walking," although it would have been pretty cool too if he'd just done a cover of it.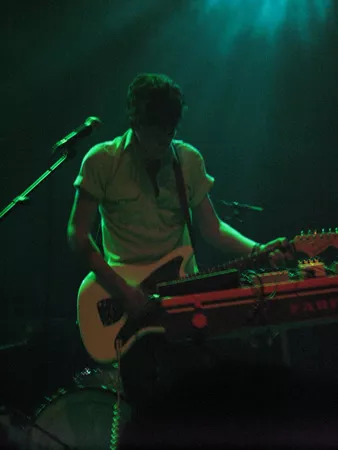 What appeared to be a quick three-block jaunt on the not to scale map provided with the festival schedule was actually a bit of a hike, though not quite as bad as I feared mid-way, since the street numbers randomly skip a few hundred or so. I've been to some of Montreal's larger venues over the years, but this was my first time at the Olympia, which was massive and packed with a crowd ranging from 18-year-old punks to fiftysomething aging rockers with ratty band t-shirts and ponytails. The Butthole Surfers have aged well, but I can't say the same for all of their fans. At one point I stood next to a young woman in punky attire and probably seven months pregnant. Rock on, lady. I hope your kid is as cool as you.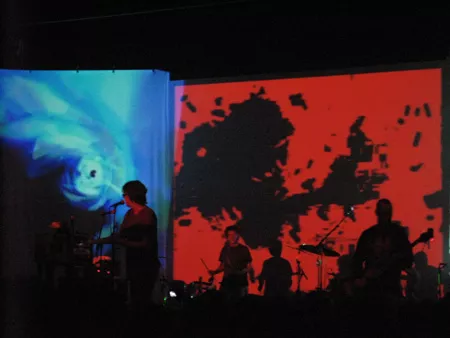 The Butthole Surfers from three kilometres across the room
Anything crude and aggressive about the Butthole Surfers' live shows appears to have been channelled solely into video projections now. I guess trying to shock the audience gets pretty old after a couple of decades. I don't know if the video feeds dated back to the '80s and '90s, or were made up recently from old footage, but there was something pretty cool about watching giant projections of old '80s tv (Jem, anyone?) and crazy swirling colours that would have been such a totally rad screensaver in 1993, when you only knew one person with a colour computer. And, of course, there were naked women covering themselves in pink lipstick, as well as needles being stuck into and organs removed from orifices.
The crazier performances came from the endless series of young men jumping onto the stage or trying to crowd-surf their way onto it, then being very emphatically tossed from it by security. The sound was loud enough and the space big enough to make me feel like I was at a stadium show. They came out to an intense encore in front of a seizure-inducing video montage—-Pikachu's got nothing on this shit. (This is why you should wear earplugs at shows sometimes, kids, not just keep them in your bag, and sometimes dark glasses might be a good option too.)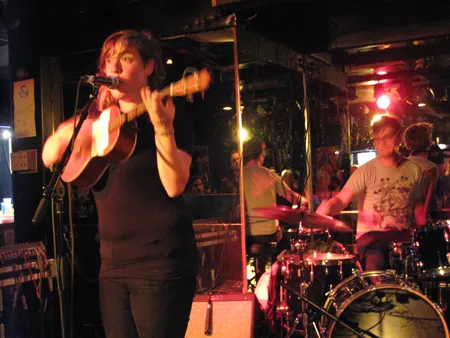 Sister Suvi loves the ukulele.
I headed back to St-Laurent too late to return to Cabaret Juste Pour Rire and catch Clues, so I poked my head in at a couple places along the way and made it up to Club Balattou a bit past 1 AM. I've been following Montreal-Toronto band Sister Suvi online for a couple years and picked up their new album in the spring; they've never played Halifax and I'd never seen them live elsewhere. Drummer Nico Dann and I took art classes together in high school, and he was doing weird noise-art performance stuff that was pretty cool back then, so it was no surprise that he was in a cool band eight years later.
The band shares guitarist and bassist Patrick Gregoire with Islands, and rounding out the drums and bass is ukuleleist Merrill Garbus. And yes, a drum kit, a bass and a ukulele is more than enough. They are offbeat, catchy, mystic and charming, which was why I was unhappy to hear via audience members' shouts that this was their last show. They're one of those bands that just seem really happy to be playing with each other, and were debuting some lovely new songs even though they're breaking up. By 2:30 in the morning with a stuffed venue full of band friends getting emotional, I felt like a bit of a party crasher, so I headed out for the leisurely 40-minute walk to my sister's couch. You can still buy their album online, though, and I suggest you do.