From the overflowing talent at DCAF to a new Africville retrospective to the torn-up punk tunes of Like A Motorcycle, here's what you should be texting the squad about this weekend.
Submitted photo
The Big Jump returns to the city's waterfront, helping you splish-splash it up in Halifax Harbour this Thursday.
Dartmouth Comic Arts Festival
Saturday, Sunday
Grab a hot cup of DCAF as the two-day celebration of comics, cartoonists and crafts returns to Alderney Landing. Saturday is all about panels and programming (and sees Ed Piskor and Jim Rugg, two artists who've won the Eisner Award—the comic equivalent of an Oscar—onsite) while Sunday is more exhibit and vendor-based—so bring yer wallet and look out for scads of local talent. more deets
The Big Jump
Thursday
The free, one-day urban swimming adventure returns to the Halifax waterfront, helping you cool off by splash-splashin' around in the harbour. Onsite freshwater showers and water fountains—along with ladders and docks for easy access—round out the scene. more deets
Discovery Days: Dark Skies
Saturday
A celebration of astronomy and space exploration, this day at the Discovery Centre sees guest experts discuss the patterns in our night sky and show how to make a constellation viewer. more deets
The Centre For Art Tapes' 40th Birthday
Thursday
An-all ages celebration of Nova Scotia's only media arts-focused centre! Tunes by DJ Douvet, a performance by The Broadway Maybees, karaoke, cake, drinks and more make it a heckin' good time at the Art Bar. more deets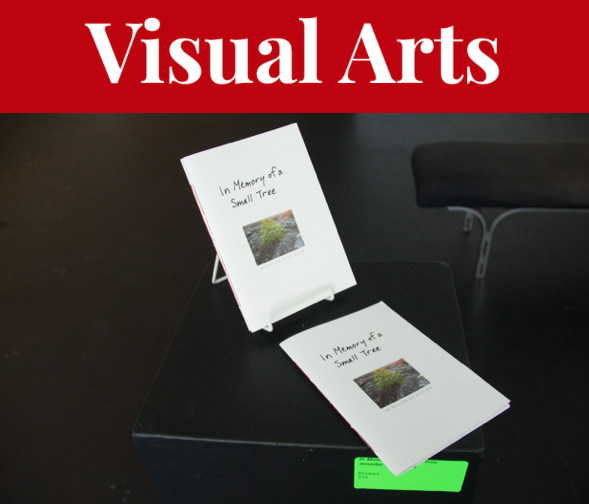 Submitted photo
The Khyber's latest showcase tackles late capitalism, the apocalypse and Olivia Newton-John (natch).
Bokehlicious
Thursday, Friday, Saturday, Sunday
Angela Creaser presents her collection of super-cropped shots, celebrating minute details and blurring colours. at ViewPoint Gallery. more deets
Hopelessly Devoted To You
Thursday, Friday, Saturday
The Khyber's latest group show—which the gallery says is "in response to the end of the world"—sees artists sharing works about everything from the apocalypse to late capitalism to iced coffee to Olivia Newton-John. Peep this issue's Coast for a review of the showcase, too. more deets
Patterns of Growth
Thursday, Friday, Saturday, Sunday
Toni Losey's earthenware pieces sport finishing flourishes that look like a cross between the most beautiful barnacle your imagination could render and an alien's eye. See 'em for yourself at the Mary E. Black Gallery. more deets
Africville: A Spirit that Lives On reflection project
Thursday, Friday, Saturday, Sunday

Mount Saint Vincent University Art Gallery mounts a 30th anniversary retrospective of its groundbreaking, collaborative exhibit that saw the gallery, the Black Cultural Centre for Nova Scotia and the Africville Genealogical Society combine forces to remember Africville.
more deets
Submitted photo
Wordburglar returns to get the DCAF party started with a kick-off show Friday.
Like A Motorcycle w/Dearly Beloved, Little You, Little Me, Worst Part
Friday
Torn-up punk tunes to make you move at The Seahorse. more deets
DK and Ghettosocks' album release party
Thursday
Up-and-coming producer DK—whose love of sampling drums from vintage vinyl makes him a standout—celebrates his recent collaboration with OG MC Ghettosocks at this party where you can cop their sure-to-be-stellar seven-inch vinyl. Black Buffalo records will also be on site spinning soul, funk and hip hop 45s to keep your feet shuffling. It all goes down at HopYard Beer Bar. more deets
The DCAF kick-off party
Friday
The DCAF kick-off soiree is a venerable tradition at this point, with Halifax-born, now-Toronto-based MC Wordburglar coming home to prove he's still got the crown when it comes to nerdcore rap. Get amped for the two-day comic book celebration as Wordburglar spits and DJ Black Buffalo holds it down on the ones and twos. Spots from Bullet Bill Club and Hello City round out the fun at Menz. more deets
Makayla Lynn
Sunday

Lynn's taken her early-Taylor Swift vibe to Nashville, shared the stage with the likes of Keith Urban and Carrie Underwood, gained major props from Rolling Stone and has even won awards like Music Nova Scotia's Entertainer of the Year and Best Country Artist and Best Artist Most Likely To Make It Big in the Best Of Halifax Readers' Choice Awards. Here, she shows us this summer is all hers with an all-ages shows at White Point Beach where she hypes her latest single, "I'm Over You."
more deets