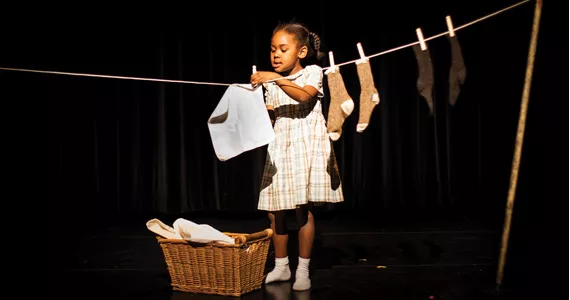 Riley Smith
The San Family puts love on the line.
Juanita Peters didn't set out to write or direct a play. She's a well-known filmmaker, after all, at home behind the camera.
But she had the germ of an idea for a feature film about racial segregation set in a Nova Scotia sanatorium in the early 1940s. It was an idea she began to explore during a residency at the Banff Centre for the Arts.
"I shot a scene in Banff, and I just thought 'Hey, that's really beautiful,' and suddenly I could imagine it playing out on a stage in front of me," says Peters on a break in the rehearsal space in a tiny Dartmouth storefront. "I guess it was just time to challenge myself with a new medium."
The result of her self-challenge is a play called The San Family which is having its world premiere at the Alderney Landing Theatre this week.
The San Family is the story of a 22-year-old black man named Will Langford who contracts tuberculosis and is admitted to the Weymouth Sanatorium, where several of his family members are also being treated for the disease.
The sanatorium, as was the practice at the time, is racially segregated. The play explores how barriers and prejudices are broken down as Will tries to comfort himself and the other patients through music, which helps him form a bond with a somewhat bigoted patient named Stewart McKinnon on the other side of the divided hospital.
McKinnon, a musician and former radio host, comes up with an idea to bring the patients together and connect them with their families in the outside world. He proposes a radio broadcast of music, poems and greetings from the "san." The idea is met with shock and resistance from the staff, but eventually the power of music triumphs.
"The story itself is a work of fiction," explains Peters. "But it's based on many stories and truths that I learned growing up. For instance, there actually was a radio host named McKinnon who set up a broadcast of a Christmas concert from a sanatorium. You can imagine that it was just such a wonderful thing for the people on the outside to hear the voices of their loved ones."
The role of Will Langford is played by Jordan Francis, a Toronto-based actor best known for his work in Disney's Camp Rock. Peters spotted Francis when he was hosting the CBC show The Cross Country Fun Hunt and knew he had the musical and acting chops for the part.
"I've found it very easy to relate to Will as a character, and I love the way music is used in the show," says Francis. "It goes back to a time where people sang ditties and jingles while they were doing everything from chores to laundry. It's just a really great combination of folk and gospel."
Some of the music is played by the Preston Primos, a group of 12 young musicians ranging in age from 13 to 24 who are led by local jazz musician Jeff Goodspeed. Peters describes them as the show's own "mini-orchestra."
With its local historic focus, the show has already proved to be a popular African Heritage Month outing for schools, with the matinees selling out within days of the box office opening.
But actor Frank MacKay, who plays Stewart McKinnon, believes that The San Family will have a very wide appeal for audiences of all ages.
"This is a play that's rich in story, music and history," he says. "Even though it takes place in a hospital among very sick people, it's ultimately uplifting. It shows us that despite what some people may think, we are all much more alike than we are different."