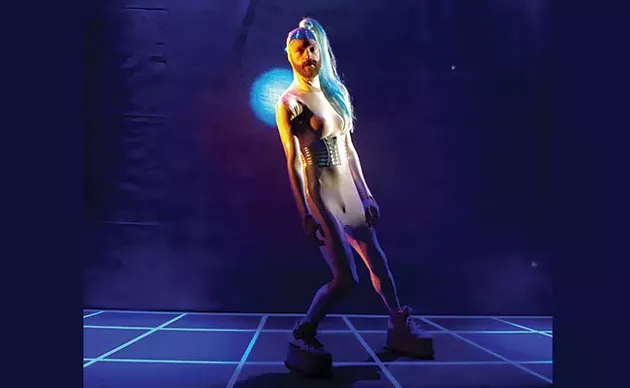 The Princess Rules
To November 11, 8pm (plus 2pm Nov 11)
The Waiting Room, 6040 Almon Street
$15-$40 adv/$25 door
tickethalifax.com
"We've levelled up a bit," says Aaron Collier, standing outside of The Waiting Room on Almon Street. "It's like we went from Nintendo to Super Nintendo."
Collier and his husband Richie Wilcox are the artistic directors of Heist, and they're back with the newest installment of the Princess saga, which began with last year's anime-infused lip-synced drag romp, Fringe Hit The Princess Show.
"At the end of the last show, we saw Princess Edward successfully performing a comeback concert after being depressed for 10 years," says Collier. "We pick up this story a year later and Abel and Princess have blown up—they're super-huge stars. The success of this comeback tour is epic. They are now a modern pop-music machine."
This time around, the Heist duo is joined on stage by Lara Lewis, a sometime Coast contributor, in the role of Valet Girl. "She is Princess Edward's biggest fan and vlogs about her all the time," says Wilcox. "Her vlog goes viral and she starts to become famous, so Princess Edward and Valet Girl compete for fame and popularity."
Not only has it expanded its cast, but Heist has also grown its creative team and brought on Montreal-based director Jean-Pierre Cloutier. "It's really huge for us," says Wilcox. "I've known Jean-Pierre for 10 years and it has been a wish to work together. So I went out on a limb and asked him to do this show. Having someone new from completely outside of our previous collaboration was really great."
In addition to Halifax collaborators Nick Bottomley designing projections with Collier and Emlyn Murray on costumes, there are also Lethbridge-based artists Deonie Hudson and Jay Whitehead and a collaborator creating narration in China. "We have something like 20 people working on this show," says Wilcox. "For an indie production, that's a lot of people."
"The first show we made really quickly, in two weeks," says Collier. "And we had no idea what we were doing. This time we brought more people in, and we made it four weeks, and still have no idea what we're doing."
Don't be fooled by the modesty—if previous Heist productions like New Waterford Boy, NATION and FACE are any indication, Princess Rules is sure to be an impressive spectacle.
"Like a typical Heist show," says Wilcox, "the audience is invited to take pictures, to hoot and holler. It's a space that people can come in and have fun and don't have to sit in the dark in silence."