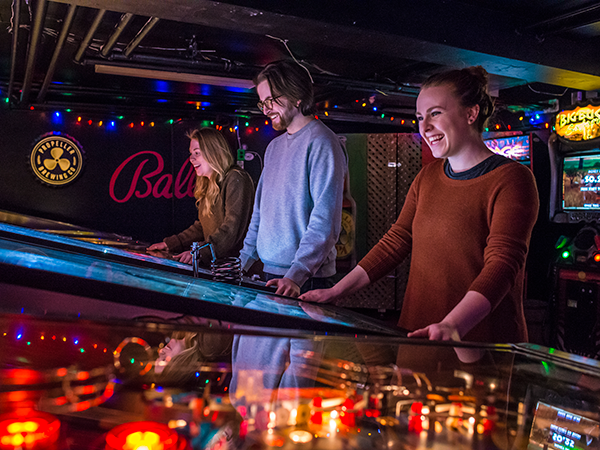 The closest thing to getting inside Ian Matheson's brain is spending some time at the Propeller Arcade. The Propeller Brewing Company staffer and resident pinball nerd was the champion behind the north end brewery's no-frills, ultra-lax basement bar, which opened about nine months ago. Now he's helping it level up.
"We thought it would be so cool if we could use the brewery floor for something. Fifty percent of the people who come down here are in shock and awe of these games they haven't seen in a long time, but so many others are taken aback by the brewery itself. When people see it, so many want to go down and explore," says Matheson of the idea to expand the Propeller Arcade offerings—and square footage—for one weekend only. After calling up some friends and collectors ("I love to get stoked on this stuff, and so do they," says Matheson) the brewery is ushering in fall by hosting Level Up—three days of maximum fun. Think black lights, disco balls, classic arcade basketball, air hockey, driving games and a claw machine, plus the usual old school classics you can always find at 2015 Gottingen Street.
The XL Propeller Arcade experience takes place Friday, September 20 and Saturday, September 21 (from 4pm to midnight) and again on Sunday, September 22 (from noon to 6pm for all ages, and until 10pm for the 19+ crowd) when Hopyard Beer Bar will join in on the fun, with snacks on hand.
"It's all about having fun really," says Matheson. "I just really wanted to fill a room with fun stuff, and thankfully they let me."