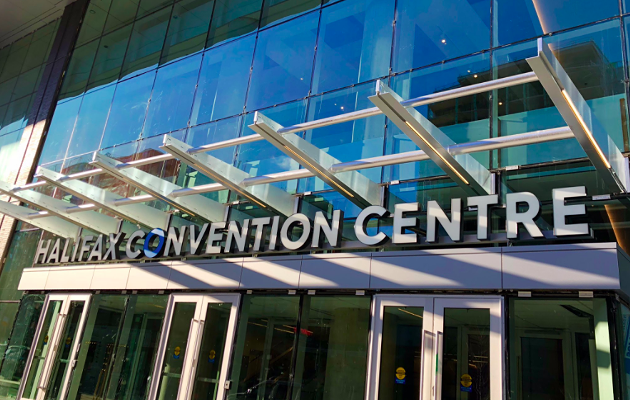 VIA TWITTER
For our children, and our children's children.
The ink is finally dry on the Halifax Convention Centre's lease, nearly three months after its doors first opened.
Substantial completion has been reached on the $169-million downtown project and the keys have officially been turned over to the province.
"Reaching substantial completion with this massive project is a milestone," writes Transportation and Infrastructure minister Lloyd Hines in a press release. "We have a beautiful, modern facility to help grow our tourism sector and showcase our province to the world."
The centre opened—
unfinished and after several lengthy delays
—and began hosting events late last December. But there were still several contractual issues to finalize before the province would sign off on the property as substantially complete.
Chief among them was setting the annual payment and interest amounts the province and HRM would be paying to Joe Ramia's Argyle Developments.
The federal government has paid its third of the cost-shared convention centre bill with a $51.4-million lump sum payment. The remaining $117.8 million is split between the HRM and the province, to be paid out in monthly instalments over the centre's 25-year lease.
According to that document, the total annual payment to Argyle's holding company works out to $10,760,570 (plus HST), with an interest rate of 4.25 percent. You can read the
full Halifax Convention Centre lease here
.
The municipality will pay its half of that cost through a reserve fund of property taxes from the surrounding Nova Centre property. That entire site was
assessed earlier this year
at a value of just over $200 million. But
according to HRM's budget documents
, the assessment is being appealed.
Regardless of the Nova Centre's current valuation, it's not expected those incoming tax funds will cover the municipality's payments for several more years. The province has agreed to defer Halifax's share of the lease payments for the next 10 years, if needed, as a way to mitigate that financial risk.
Meanwhile, the province is still looking for an extra $301,500 in transition costs—as reported by The Coast
earlier this year
—that it believes were the city's responsibility to cover.
In the same budget presentation going before council later this week, HRM staff warn those "transition issues" for the Nova Centre site remain under review.
According to the province, over 100 events are booked for the HCC's first year of operations, with 44 of those being national or international conventions.