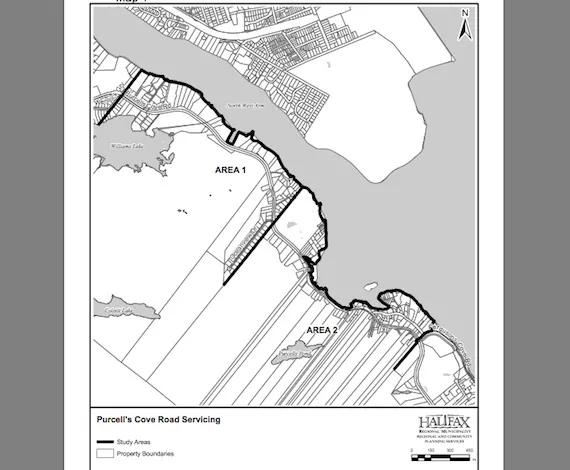 An engineering study of extending city sewage and water service to Purcell's Cove is pitting some residents of that community against their councillor, Linda Mosher. The study is to determine what it would take to extend existing lines that end near Wenlock Grove along Purcell's Cove Road to the cove proper, ending at Fergusons Cove Road. Currently, all property along the route is serviced by wells or water from Williams Lake, and by septic systems. The study is paid for through the harbour clean-up fund associated with the Harbour Solutions project, but if and when the lines are built, construction will be paid for by residents along the entire route, whether or not they want to hook up to the lines. Costs in other communities have exceeded $50,000 per parcel.
Just a short drive to the peninsula, the area is facing tremendous development pressure. The backlands, to the west of the road, is designated "urban reserve" by the regional plan, meaning that it is not to be developed until sometime after the 25-year planning horizon of the plan. But those rules are sometimes broken; in Dartmouth, developers have been successful in removing the urban reserve designation from their property.
Residents are especially worried because the old McCurdy estate, a 300-acre parcel adjacent to Williams Lake, was bought by Clayton Developments just in September, and the sewer and water study was OKed by council just five months later. City staff justified the study with two surveys of residents, in 2006 and 2007; residents question the validity of those surveys, and say that in any event five years has passed with no action, then once the McCurdy land was sold the study suddenly moved forward. There are a lot of details to this story, which I'll get into in future posts.