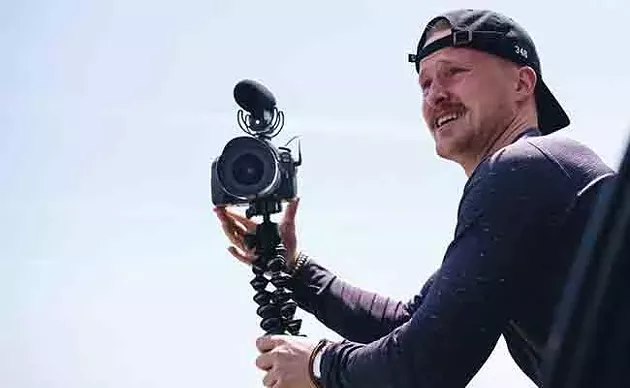 It would be tough to find someone who had a more fun, adventurous and tiring year than Halifax filmmaker Dave Culligan.
Since June 12, 2016, Culligan has posted daily one-minute video segments on Instagram and Facebook, capturing his life in Nova Scotia and beyond. A year after wrapping up the project, Culligan describes what it taught him.
---
What was this experience like?
It was tiring, that's what I am feeling now, but it was the best decision I ever made. It was incredible, jammed into one year there were so many days that felt like 'Oh my god this is a once-in-a-lifetime opportunity, this is one of the most amazing things that ever happened to me,' and it only came about because I was doing this project. There is something to be said for the consistency of the year-long project but it's not sustainable.
How did you manage to live like that every day?
A lot of sacrifices. I've struck a little more balance towards the end of the project but at the start I didn't go out, I didn't go on dates, I didn't have much of a social life—but eventually it was like I'm reaping the benefits of this and I know it is going to be tough but I just knew it was the right decision and I knew it wasn't going to be forever, so you just put the work in and get through it.
What did you learn about Halifax and Nova Scotia through this project?
I discovered a lot of communities and towns I didn't really experience before, towns like Mahone Bay, Bridgewater and Baddeck that I thought when I was a kid like, 'Ha you're going to this shithole' and now I'm super-excited to go those towns. I realize how much character they have, what great nature, restaurants and
quirky people they have. In terms of Halifax, I have learned what a vibrant community we have in the north end and how supportive the community can be.
What was your favourite thing about this project?
The friendships I've developed. I've had tons of opportunities and experiences and that has all been fantastic, but the friendships that will last forever, I think those are more valuable than anything.
What is next for you?
I'm going to wrap up a few commercial contracts right after this project and I'm going to spend some time just living my life. I will still be making videos but I may be travelling around Canada a bit and then ideally by January or February I will have some money saved up and have a finite plan for a year of travelling around the world.
What is the message you want viewers to take away from this project?
I just want people to take initiative—if they aren't enjoying their life or their circumstances to just take action and move, do things, try things and explore things in order to change that. Your own happiness and your own life are your own prerogative.
Do you feel that your quality of life improved because of this project?
A million percent. I was unhappy beforehand, very unhappy.
Why?
I don't think I was being myself, I think I was living what other people expected of me and what other people wanted of me. Now I'm just being me and doing whatever the hell I want to do and doing it passionately and working hard at it. That's what makes me happy.