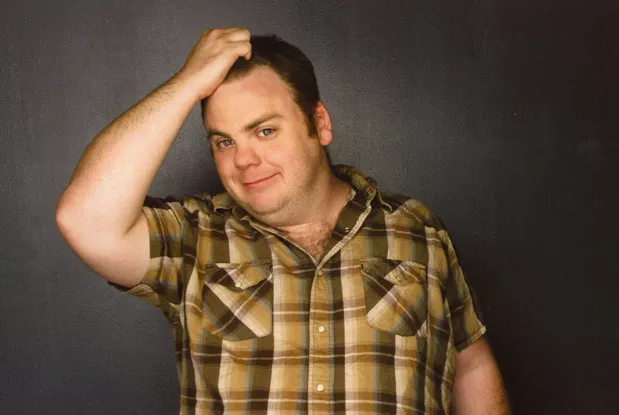 Have you noticed Halifax feels different lately? It's probably because Toronto-based comedian Pat Thornton is no longer walking our streets, drawing sweet Haligonian laughter from our citizens and shooting scenes for Andrew Bush, Walter Forsyth and Angus Swantee's new comedy web series Everyone's Famous. With 30 minutes left in the city, Thornton, star of Bite.ca's Comedy Bar, answered a few questions about the shoot, our food situation and comedy.
Q: Can you tell me a bit about the show? How did the shoot go? Were you dressed as a bear more often than not? I swear I saw a picture of you dressed as a bear.
A: Everyone's Famous is a web series about a man (Ryan Beil) who stars in an internet video that goes viral and decides to quit his job and devote his life to making videos to try to recapture that glory. I play his best friend/partner in crime. I man the camera for all of his schemes and I'm right there with him as he watches his life fall apart. I was in a bear suit for a bit of it, but mostly not.
Q: You've been to Halifax before, were you looking forward to anything on this return trip?
A: I've been to Halifax a few times. For the shooting of Roller Town, the premiere and a short stint writing for 22 Minutes. Cool town. I was excited to come back and eat donairs and seafood and mostly to work with Andy Bush again because Roller Town was such a wonderful experience for me, a funny script but with still a lot of room for me to play around and put my own sense of humour in it. This show was the same.

Q: What are you working on next?
A: I'm working on a few little writing projects but mostly doing stand up these days. I will be back in Halifax performing at Yuk Yuk's the last weekend of February.

Q: Any highlights?
A: The best part of the trip for me by far was our own "Fine Dining Club". I was staying at a bed and breakfast with other out of town castmates, Ryan Beil and Kayla Lorette and we were given a per diem to buy dinner every night so we decided to do it right. Working off The Coast's own best of 2012 list we explored some of the better restaturants in Hali. Including Chives, Il Mercatto and Brooklyn Warehouse. All of the food was amazing we even wrote a song about Brooklyn Warehouse—here are the lyrics: Where you going? Brooklyn Warehouse. What are you going to get? Steak and Frites probably. Brooklyn Warehouse. Brooklyn Warehouse. (And then you sing it again in a whisper)
It was also fun getting onstage at Company House. I wish I got more chances to get onstage but we shot so long everyday. But I will be back!
Catch Everyone's Famous as a 45 minute special on CBC and in a seven part series on the internet in February