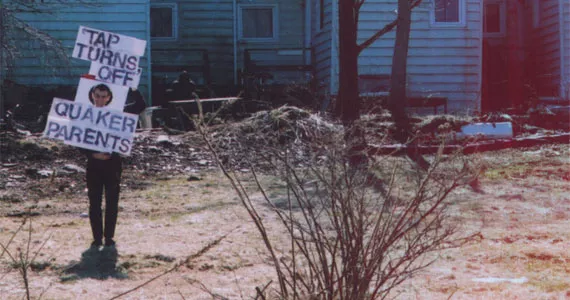 We've had hilarious questions about that, 'Are you Quakers?'" says Mark Grundy of his band's name.
The name was chosen for its aesthetic value for the Hot Money Monday singles, a series of 52 singles released every week for a year by various artists in the Hot Money Records Collective including The Handcar Race, York Redoubt, Gamma Gamma Rays and The Gideons. Mark Grundy adopted the name Quaker Parents for his singles while twin brother Scott Grundy assumed the alias of Jimmy Jay Purple (J.J. Purple) for his own.
Only one or two of the songs from the singles remain part of the band's set. The group has evolved since Mark was not only the only songwriter in the band, but also the only performer. "I got way more confident not only in my own songs, but also working under the mindset of writing songs for a band," he says.
"Before you wrote songs, and it wasn't for a band, but then you sort of arranged the music for that," Scott says. "They're still Mark's songs, but me and Brad [Lahead] worked with them and jammed them out with Mark."
Lahead became the band's third member after Scott joined on drums. Lahead has recently moved to Montreal and while the band has played a couple of shows as a two-piece, Noel MacDonald of Long Weekends will join them temporarily on bass.
Searching pawn shops in Dartmouth was the beginning of the brothers' joint musical forays. "We went pawn shop-hopping trying to find instruments. Mark wanted to play bass so I said I'd play guitar," says Scott. "Then we both bought cheap crappy guitars."
"We always thought it was a set-up," says Mark. "Because it was a shitty guitar"---a Hamer Slammer---"and the pawn shop guy says 'A hundred and thirty bucks for that one.'"
"A random guy next to me said 'That's an amazing deal!'" says Scott. "I don't know if he was positioned or he was actually being genuine, but I instantly bought the guitar."
Fueled by Scott's love of the band Thrice, the brothers formed a metalcore/punk band called Wake Up James. Transitioning out of Scott's Thrice period, the brothers started the long-lived and well-loved Gamma Gamma Rays. Quaker Parents is their first band together after the demise of the Gammas.
This Friday's release of No Crime When Covered in Grime will be their third cassette, the show features a stacked bill including Calgary's Ryan Bourne and Extra Happy Ghost!!!. The inaugural album was Huge Mask, and the second was a split with buddies Dream Friends called Tap Turns Off. Each of the albums has been released in short cassette runs and are available for free at Bandcamp.
"It's not our band mission statement," says Mark about their decision to release their albums on cassette. "They're cheap to manufacture."
As if to dispel any attempts at internal debate about the practicality of tapes, Mark sums it up: "I like tapes. They're awesome.
"It's almost like the secret level of a game when people listen to your tape because you can put whatever you want on it. On the very first one we were going to put all the songs on really sped up---Chipmunk-style. We listened to it more like that than the actual speed."
Quaker Parents w/Ryan Bourne, Extra Happy Ghost!!!, Air/Fire, Monomyth, Friday, September 9, 10pm, Gus' Pub, 2605 Agricola St., $5