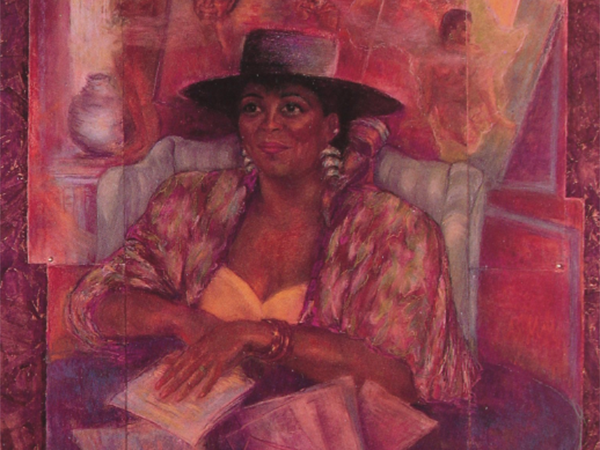 SUBMITTED
Halifax writer Evelyn C. White is the author of Alice Walker: A Life.
I'm among those who cherish poetry as the highest literary genre. So, I was delighted to discover, after moving to Halifax from BC, The Door of My Heart, a poetry collection by Maxine Tynes. A beloved African Nova Scotian educator and writer, Tynes died from complications of post-polio syndrome in 2011. I never met her.

But my sadness about her death, at 62, was recently assuaged when I attended a meeting at the Alderney Gate Library. It was held in the Maxine Tynes Room, which showcases a magnificent portrait of the author.
I enjoyed all the poems in The Door but one struck me as especially profound. As the book had been loaned to me, I photocopied the piece, "Head Count: Black Students in My Academic Nest." Its importance became clear when I was later hired as a part-time tutor for African Nova Scotian students enrolled at Nova Scotia Community College. Through them, I've gained a greater understanding of the long history of racism that has undermined the longest-standing Black population in Canada.
In Displacing Blackness: Planning, Power, and Race in Twentieth Century Halifax, Ted Rutland cites an 1850s editorial in the Halifax Morning Post that decried African Nova Scotians as an "unproductive and destitute group" best suited for slavery. The Provincial Magazine chimed in: "We have no hesitation in pronouncing [African Nova Scotians] far inferior in morality, intelligence and cleanliness, to the very lowest among the white population."
Fast-forward to the infamous 1989 snowball fight at Cole Harbour High School that drew international attention to the bigotry in Canada's Ocean Playground. The response to the crisis (as reported in Maclean's, February 27, 1989) by then Member of the Legislative Assembly David Nantes? "There is no problem with racism in the educational system—it simply doesn't exist." Well, hush my mouth.
An NSCC student I work with proudly traces her African Nova Scotian roots back several generations. But such was the degradation she suffered in local schools that, decades later, she remains unnerved around whites.
After a single tutoring session at the Central library she asked me to schedule future meetings at the Gottingen Street branch in the historically Black north end. "I'm not comfortable at the new library," she explained. "I feel like I don't belong." As a Black woman who chose Halifax, in large part, because of the spectacular new facility, it pained me to promise the student she'd never have to set foot in it again.
Another student I tutored, then a housekeeper at a hotel, told me that her white supervisor "teased" her about returning to school. Unsympathetic to the student's request for work shifts that didn't conflict with her classes, the supervisor ultimately forced her to make a decision: Read books or change sheets. I never saw her again.
The smiling visage of Viola Desmond on a $10 bill notwithstanding, African Nova Scotians continue to suffer the wounding effects of systemic racism. Think about it: An image of a scantily clad Black woman, poised to smoke a cigarette, and holding a baby reigned, for days last year in the Early Childhood Education program at the NSCC campus in Yarmouth—until African Nova Scotians complained. We're still waiting on the report about this despicable "Hoochie Mama" incident.

Maxine Tynes celebration
Thursday, February 28, 6pm
Delmore "Buddy" Daye Learning Institute
5450 Cornwallis Street, free

"Head Count: Black Students in My Academic Nest"
By Maxine Tynes

the drift
the crowd, and then
the ones and the twos of you
the odd and too few
dark faces in a class set of you
we eye-connect
across a sea of chalkdust
and of desks
Black students in my academic nest
at arms length
I hear and I share your bravado and your banter
I jump-back time
I am you again

we know the beast-beat of salmon
against the tide
against the tide

From The Door of My Heart (Pottersfield Press, 1993)

———

Opinionated is a rotating column by Halifax writers featured regularly in The Coast. The views published are those of the author.