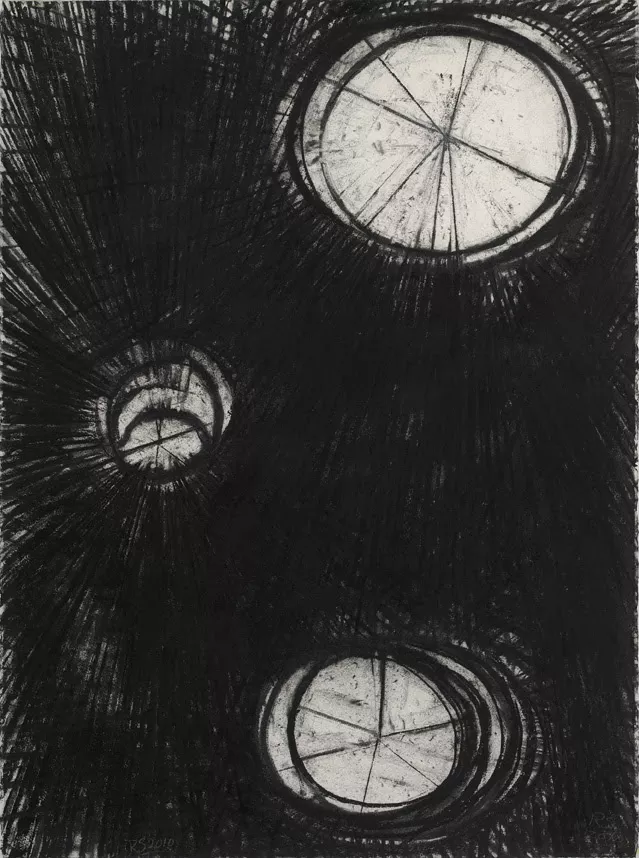 Ron Shuebrook's "Radiance Series (Three Discs)"
When you look at painting, what do you feel? Perhaps a bit of music will put you in the mood for some artistic imagination.
The fusion of art and music comes together at the Radiance music event at the Mount Saint Vincent University Art Gallery on Saturday, June 28 from 3 to 5pm. Ron Shuebrook's Drawings exhibition will be the inspiration for musicians Lukas Pearse, D'Arcy Gray and Jackson Fairfax-Perry, who will perform with the paintings as the background. Admission is free.
Each artist will play acoustic instruments in the gallery. Pearse, the Halifax-based composer, artist and musician, will play the double bass. Gray, a seasoned musician who teaches part-time at Dalhousie University, will play the vibraphone and Fairfax-Perry, a recent Dalhousie graduate, will play the saxophone.
"Imagery is a record of action and the suggestion of action," says Pearse. "That's what a score really is. It's instructions for actions in making sounds." Shuebrook's exhibition is a departure from his well-known coloured abstract paintings and focuses on his recent charcoal drawings. Four large-scale drawings are the focal points of the exhibition. "Radiance Series (Three Discs)" (2011) is one of Shuebrook's futuristic style drawings with distinctive swirls and complex lines. "Ron Shuebrook is about action and process," says Pearse. "For a musician, that's what it's really all about."
Creating graphic scores involves examining a visual medium and representing the essence of the work. Pearce understands the marriage of art and sound. He graduated from NSCAD in 1994 and studied music at Dalhousie University and Goldsmiths College in the UK.
"Form can transcend medium," says Pearse. "For example, you have 'swoosh' as a sound on your computer and as a visual medium. How can swoosh be a sound? You have traces of motion become the sound, like an echoing of the motion."
To produce a musical sound for the exhibition, each musician examined Shuebrook's pieces and his creative process. Shuebrook is a well-renowned, veteran abstract artist known for his strict modernist aesthetic.
"Ron's drawings are based on the physical gesture," says Gray. "You look at the shape on the page and look at the gesture to see if we can do that on an instrument or use the same process to create the music."
The event will be a unique experiment of art and sound. Pearse, Gray and Fairfax-Perry will rehearse the day before the performance for the first time to solidify their ideas.
"Ron is a big fan of jazz from the 1950s and 1960s," says Gray. "We have the bass, saxophone and percussion so the texture is similar. It doesn't mean the audience will hear jazz. We're not sure yet how it will sound but we hope audience sees the connection."