Today on Gottingen Street rainbow flags hang proudly from apartment windows while Raymond Taavel posters are plastered to telephone poles and presented brightly in store-front displays. At Grand Parade a rainbow flag flaps at half mass while a single bouquet lies beneath it—all in commemoration of the one-year anniversary of Taavel's untimely death.
On April 17 2012, Taavel, a prominent member of the gay community, was killed outside Menz Bar on Gottingen Street. While trying to stop a fight outside the bar, Taavel was beaten to death. His life was cut short at the age of 49 and Halifax had lost one of its strongest activists for the LGBTQ community.
Immediately following Taavel's death, Halifax banded together in a showing of overwhelming support. Hundreds of people gathered outside Menz Bar, holding candles and sharing stories of Taavel, while countless vigils and memorials were held all across the Maritimes in his honor.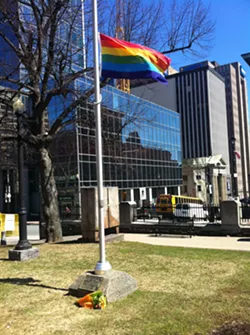 Now, one year later, the rainbow-covered city makes it clear his memory has not been forgotten.
"We have all this shock and surprise and upset when things like this happen but sometimes as time goes by they get forgotten about and also the reason why they happened get forgotten," says Vanessa Smith at Little Mysteries Books, where a rainbow flag hangs in window.
The flag is displayed at Little Mysteries Books to, "show support for that ongoing process of trying to make the world a better place," says Smith—something Taavel deeply valued. "This was someone who was out there walking the walk and not just talking about things, but really being active and spreading some hopeful ideas and messages around the community," she says.
To accompany the rainbow flags, The Nova Scotia Rainbow Association and Halifax Pride distributed commemorative rainbow posters with a silhouette of Taavel's face on them throughout the city.
One place you can pick up one of the free posters is Venus Envy on Barrington Street. "We're just handing them out for free to whoever wants them. It's kind of cool to walk down Gottingen Street right now, there's tons of rainbow everything," says employee Heather Chamberlin. Along with handing out the posters and selling a lot of rainbow merchandise, the folks at Venus Envy are, "just personally taking the day to think about what happened and all of the issues in the community," she says.
Over at The Monster Comic Lounge on Gottingen, where one of the commemorative posters is displayed, the feelings of support for Taavel are mutual. "I was actually really surprised and proud of not even just this year, but last year how quickly the city kind of rallied around it and honestly I think anything we can do should be done, so it's been really great so far," says employee Alex Bayer.
Pretty much anywhere you go today, you can see signs of Taavel's memory. Though he is no longer here to spread his messages of activism for the LGBTQ community, the rainbows make it clear that Halifax has picked up where he left off, making a point not to forget his voice.