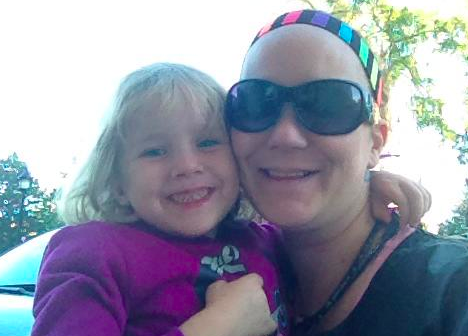 via Facebook
Fliss Cramman has lived in Canada almost her entire life, but was unknowingly never a Canadian citizen.

Chaining a mother of four to a hospital bed while she awaits a decision on whether she'll be deported is torture—full stop.
So says HRM's former poet laureate and prison reform advocate El Jones, who is organizing an emergency rally outside Fliss Cramman's Dartmouth hospital room to try and get the Department of Justice to intervene in the 33-year-old woman's plight.
"It's torture," says Jones, about Cramman's current condition shackled to a bed post-surgery. "The only thing we can think to do is have a rally. We have to get eyes on it."
Cramman originally came to Canada from England at the age of eight. CBC reports she was sexually abused and taken into government care until turning 18. After serving time at the Nova Institution for Women for offering to traffic heroin, it was discovered that Cramman has never been a Canadian citizen and now she's scheduled to be deported in a matter of weeks despite having never met her relatives, and having no money or support systems in England.
CBC's Jack Julian and Jon Tattrie reported from Cramman's immigration hearing earlier this month where the hospital's chief of surgery warned that bringing her back to England would be dangerous, "wrong" and "un-Canadian."
"Anyone who cares about human rights should object to the shackling of a sick woman who is no risk and has served her time," writes Jones in a Facebook post. "This is an urgent justice issue."
The rally for government intervention will take place Thursday, September 29 at 6pm outside the Dartmouth General, in the parking lot behind the Dartmouth Courthouse so as not to impede entry and exit of hospital patients and families. More info can be found on Facebook.
In the meantime, here are the emails to contact:
Nova Scotian Justice minister Diana Whalen (JUSTMIN@novascotia.ca)
Federal Justice minister Jody Wilson-Raybould (mcu@justice.gc.ca)
Federal minister of Immigration, Refugees and Citizenship, John McCallum (Minister@cic.gc.ca)
And Dartmouth MP Darren Fisher (Darren.Fisher@Parl.gc.ca).
Cramman's case will next be heard by the immigration detention board on October 21.