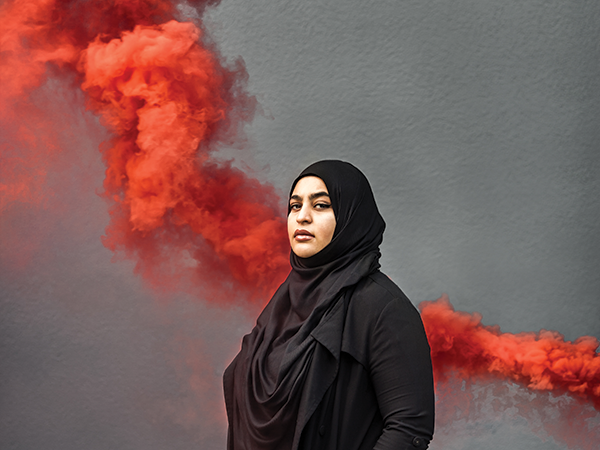 MEGHAN TANSEY WHITTON
Masuma Khan is an Afghan settler born and raised in Mi'kmaq territory. Masuma is also soon to be a Dalhousie alumni, graduating this spring with a double major in International Development Studies and history. She is also a very active community member and organizer.
Ramadan is the ninth month in the Islamic lunar calendar, a religiously significant month for Muslims, because it is during the Month of Ramadan that the Quran was first revealed to Prophet Muhammed (PBUH). For 1,440 years, Muslims around the world have experienced Ramadan as a time to reconnect with the creator. The most special part about Ramadan to me, is that it fills my soul. Spiritual healing experienced during Ramadan fills me with the strength to survive another year.
This is not the case, however, for Muslim brothers incarcerated in the Central Nova Scotia Correctional Facility in Burnside.
Last year Muslim brothers complained that they had no access to Islamic programming during Ramadan and their fasting needs weren't being met. So this time Musa, a Muslim man, asked for changes. He hasn't seen any yet.
Musa told me over the phone he was feeling isolated, uncomfortable and very unlike himself. He doesn't have any visitors and is trying to hold onto his deen [faith]. After last Ramadan, Musa spoke with the deputy super and manager and put in a request asking to have regular access to an imam [Muslim leader of prayer]. There used to be access, but eight months ago it stopped. He says that before Ramadan, he asked for some books and got no response, so he got his sister to send some of his books and the box was sent back without even being opened. "Every day I tell them about Ramadan, they don't take it seriously," says Musa. "So now they're violating my rights. And I've put forward so many requests and complaints forward. These people don't care about my religion.
"I think I they're trying be a thorn to the reversion of brothers who turn Muslim. Every day I read the news about how Saudi and Somalia is like this, but Canada is the leading country for human rights. That's a farce. If you're Black or Indigenous, they do not upkeep your rights. They do not uphold the charter. They do not treat people humanely."
Musa wants more accountability, and wants the Muslim community to "keep the brothers that are incarcerated in their duas [prayers]," he says. Our call ended soon after that, how they always end. I read Musa Quran. It is a beautiful moment to share with Musa, where we both focus on the words of the creator.
But I am sad, because Musa's Ramadan is nothing even remotely close to mine. While I have no barriers to access Islam, Musa is using his time talking to me, to learn more about Islam and work on his character.
All I know is that I don't want Musa and others to feel this way. I want them to know we are here. And, yes you are in our prayers, but it doesn't stop there. We need to take action; it is time for accountability.
And to the chaplain at Burnside Jail, I ask you brother, what would Jesus do? Jesus would never act as a barrier to faith, he would not do this to his Muslim brothers. So why are you?
———
Opinionated is a rotating column by Halifax writers featured regularly in The Coast. The views published are those of the author.