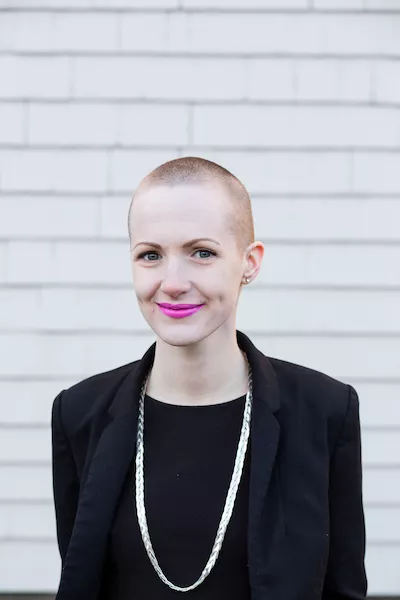 ELDIE Photography
Rose conducted over 30 interviews for her book Before The Parade, making it the most comprehensive 2SLBTQ+ history of Halifax to date.
Before The Parade (Nimbus Publishing, $19.95)
Available now
In 2016, journalist and queer activist Rebecca Rose sat down to coffee with local gay elder Robin Metcalfe. He told her that his friend and lesbian elder Anne Fulton had recently died. Fulton was a founding board member of the Gay Alliance for Equality—the first gay and lesbian community group in Nova Scotia in the 1970s. Rose was curious about Fulton and concerned that her death didn't garner much attention beyond her own social circle. That concern and curiosity soon led Rose to write
a cover feature for The Coast's 2016 Pride issue
and, eventually to expand that reporting into a book. In
Before the Parade
, Rose recounts the history of queer activism in Halifax from the early 1970s to the mid-1980s with the help of those who lived it.
Here, we catch up with the author about the book writing process.
The Coast: You interviewed elders about the early years of queer activism in Halifax. What was that like?
Rebecca Rose:
"I'm a big LGBTQIA2S+ history nerd, so I love this stuff. I conducted over 30 interviews with lesbian, gay, bisexual and two-spirit folks who were involved in the '70s and '80s. And, as Andrea Currie said in the book, my research really followed the path of relationship: I would speak to one person and they would introduce me to a friend or ex-lover or fellow-activist or someone else that went to The Turret (the first community-run gay bar in Halifax), and it just kind of went from there."
Is there an elder or a story that really stands out for you?

Rose:
"I can think of a story that really stands out for me for each and every person that I spoke to. I spoke to lesbian mothers who were scared to lose custody of their children. I spoke to lesbian feminist activist Darl Wood who was purged from the military. I spoke to a drag queen named Lily Champagne—AKA Randy Kennedy—about becoming a drag queen at a young age. But I would say something that I think about a lot is Lorne Izzard, who is a black gay man and he spoke about when black drag queens would come and get ready for the club at his house. Even The Turret was predominantly white, so getting a window into his community within the community was really special."
You're telling stories that haven't been told before. What is that like for you?
Rose:
"To be the person who hears those stories first hand—I'm not reading them in a book or an article; I'm not watching them in a documentary; I'm the one who is sharing these stories sometimes for the first time—is such an honour. I am really privileged to have done that work."
That work seems like both a privilege and a responsibility. Does it feel that way?
Rose: "
It feels like a huge responsibility because these are not my stories, but folks have put their trust in me to tell them. So I've worked really hard to try to stay true to the people, and to their experiences, and to their stories, and to really do them justice in this book."
Have we already lost a lot of elders and their stories?
Rose:
"Oh yeah, we've lost a lot of folks. Our elders aren't going to be here forever and that history isn't going to be preserved forever—and so we've got to document it in any way we can. "
This Q&A has been edited for length and clarity.