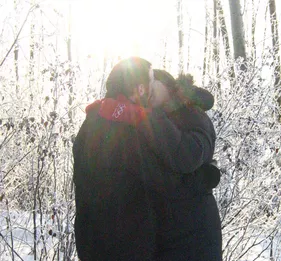 Chris and I met in 1993 when we were in Junior High. We were friends throughout school and even dated one summer, though we quickly grew apart.
I graduated, went to University, and moved on with my life. Chris made random appearances at mom's house probably every six months or so to check in and chat for a few years. When mom bought a new house I remember hoping that Chris would make his next random visit before we moved, but sadly, he didn't. We moved and I thought that was the end of our friendship.
Years later, I was working part-time in Penhorn Mall. One evening Chris walked by and we started chatting. One thing led to another and soon we were hanging out pretty regularly, though I still didn't know I had feelings for him.
In 2008 I moved to Manitoba for work, that year before I came home for Christmas, a friend told me I had to put Chris out of his misery. It was while I was away that a friend of ours made us realize we had feelings for each other. He was always talking about me, and I was missing him. So, I agreed to have a date with him when I came home for Christmas. However, I was really worried that it would be like kissing a brother because we had developed a really good friendship over the years, and I didn't want to ruin what we already had.
After our dinner date we went upstairs to watch a movie and curled up together on the bed. He said to me later that he was surprised that I curled into him so easily. Truthfully, I was too, but it just felt right. Throughout the movie I kept looking for the right moment to turn my head and kiss him, but I lost my nerve. Luckily, as the credits rolled, Chris wrapped me up in his arms and planted one on me. I started giggling and said "that's not weird". We kissed again, and the rest is history.
Over the next 8.5 months we dated long distance, traveling back and forth to see each other, and on August 10th, 2009, Chris brought me to Shubie park where he asked me to grow old with him.
We've set the date for August 10th, 2011. Service will be at Saint Andrew's Presbyterian in Dartmouth and the reception will be held at the Holiday Inn Harbourview. We know it's a Wednesday, but the date is special to us.
*As told by Desiree Smiley, with edits.