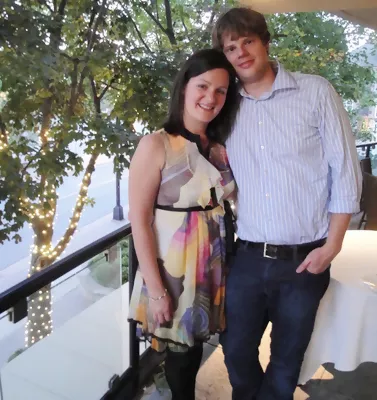 Vikki and I met in University. We didn't actually attend the same school; Vikki attended Saint Mary's University while I studied at Dalhousie. By chance a class I needed for my degree was full so I took an opportunity to take the class at Saint Mary's in order to finish my degree on schedule. In the first lab I ended up without a lab partner as I didn't know anyone in the class and they all seemed well acquainted. Vikki showed up a few minutes late for the lab and as a result ended up 'stuck' with me! We worked well together from the beginning. Lab exercises turned into study sessions which turned into dates and four years later, turned into an engagement.
On Sunday September 5th, 2010, the day after Hurricane Earl tore its way through Halifax, we set out to Point Pleasant Park to assess the damage and to take our two dogs for a walk. We find ourselves at Point Pleasant with our dogs about five times a week and often comment that our walks are our favourite parts of our days. On this walk I led the way down a small path that leads by a stream. We had only been down this path once before and prior to that we had no idea of the streams existence. As the dogs quenched their thirst I encouraged Vikki to sit on a rock at the head of the stream. I told her how much I love her and how much she means to me. I told her that I want to spend the rest of my life with her. It was then that I grabbed the ring box from my pocket, took a knee, opened the box and asked her if she would marry me... and she said YES!
We will be getting married on May 22nd, 2011 at Pier 21.
*As told by Kevin Berryman.