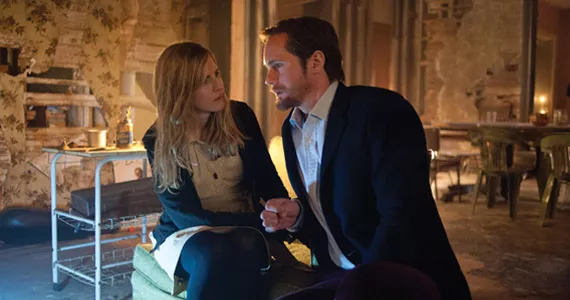 Brit Marling and Alexander Skarsgård share a rare washed moment in the eco-activist thriller The East.
1.The East
When writers Zal Batmanglij and Brit Marling tried out the freegan lifestyle for a couple months, they were so inspired by anti-consumer living that they turned around and created this punk-pop thriller about an anarchist collective targeting multinational corporations. Batmanglij directs, while Marling stars as an undercover operative working opposite True Blood's Alexander Skarsgård and Halifax's prodigal daughter Ellen Page. The three poison pharmaceutical executives, assassinate CEOs and generally stick it to the man. Alive and with functioning eyes, Marling's character begins to feel an attraction to Skarsgård. Will these feelings of love complicate her mission? Let's watch and see! June 28
2. The Bling Ring
Sofia Coppola goes TMZ in her dramatization of the Hollywood Hills Burglars. Those would be the self-obsessed millennials, so aching for stardom that they stole $3 million worth of jewellery, clothes and cash from the homes of Lindsay Lohan, Paris Hilton and others. Emma Watson ratchets herself up as a character based on Alexis Neiers; a Bling Ringer who went to trial for her crimes while still filming her reality show (E!'s Pretty Wild). With Hilton herself having a cameo, Bling Ring could serve as a companion piece to Coppola's underrated Marie Antoinette. Though, presumably, it will feature less guillotines. June 21
3. V/H/S/2
Yes, it's a sequel to last year's indie horror anthology featuring a series of found-footage shorts by a swarm of up-and-coming thriller directors. Like the original, there'll be some vague wraparound story about curious fools stumbling upon haunted VHS tapes. It's a premise which probably thinks itself more clever than it is. But, here's the thing, this sequel offers shorts from Eduardo Sánchez (director of the original Blair Witch Project), and Gareth Evans (who made the gloriously violent The Raid). Oh, and did I mention Jason Eisener directs a short entitled Slumber Party Alien Abduction?
4. The Wolverine
Did you know Hugh Jackman has played Wolverine in seven movies (counting the upcoming X-Men: Days of Future Past) over the last 13 years? He's the longest running actor to play a superhero. Clinton was still in office when he took on the role. Here, the immortal mutant with adamantium claws visits Japan, fights off killer ninjas and shares an unforgettable night with Bill Murray. Will Logan be haunted by the violence he's forced to commit? Director James Mangold helmed Cop Land and 3:10 to Yuma, but his last outing was Tom Cruise's Knight and Day. So, let's be tentatively optimistic! July 26
5. The Canyons
Within the rotting corpse of Hollywood, a young producer and his actress girlfriend race each other to the bottom of a violent, sexual hell. Directed by Paul Schrader (writer of Taxi Driver and Raging Bull) and written by American Psycho author Bret Easton Ellis, this erotic thriller was mostly cobbled together from Kickstarter donations. Lindsay Lohan (Mean Girls) engages in various explicit, soul-destroying sex scenes opposite porn actor James Deen (Farrah Superstar: Backdoor Teen Mom). With a troubled production that seemed closer to a suicide pact, The Canyons could wind up brilliant or abhorrent, but it'll definitely be bonkers. August 9