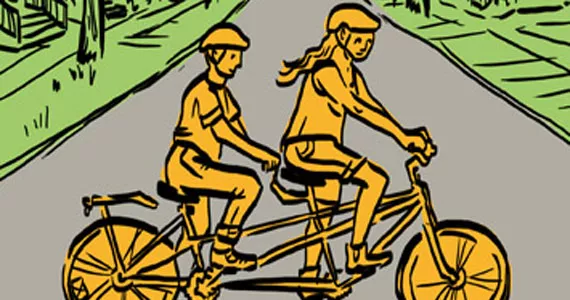 In spring 2010 residents at Black Street and Northwood Terrace were jolted by the sound of breaking glass. Not the Nick Lowe tune. Two vehicles colliding, steel crunching, windows shattering and, before they could asses the damage, sirens blaring.
"Lots of drama," recalls Kim Thompson, who lives on Northwood. "This raised discussion of speed bumps and physical solutions. But it became an opportunity for dialogue among witnesses."
Soon after, Thompson was involved in Arts Engage, where Michael Cook of Portland's City Repair was presenting on turning contested spaces into public places. He suggested a citizen-led conversion of the intersection into a public square. The process involves decorating and beautifying the intersection, making it an expression of the neighbourhood's character, a place where people are prioritized over vehicles.
The neighbourhood was strong on community, hosting the legendary Black Street Party---a car-free day of hockey, dance, circus, music, free food and games---every September. But when Thompson and fellow resident Emma Fitzgerald spoke with people in the vicinity, they learned not everyone felt welcome.
"They'd say, 'Oh I saw that party but I thought it was for Black Street residents,'" Fitzgerald says.
It was then that she and Thompson seriously considered the City Repair model, how it could build a more connected, resilient and sustainable community. City Repair started in 1966 with the idea that the foundation of sustainability is localized economy, culture and politics. The goal was connecting people to their communities, intellectually, and facilitating "artistic and ecologically-oriented placemaking through projects that honour the interconnection of human communities and the natural world."
In Halifax, the first task was getting residents together to discuss desirable initiatives, how to become a more cohesive community. Fitzgerald and Thompson got support from HRM's community arts facilitator, the Bloomfield Neighbourhood Residents Association and Northwood Manor seniors' home. The latter was planning its 50th anniversary, going door-to-door for signatures supporting a permit to close the street for a July block party.
"We wanted the community to get to know us better," says Natasha Handspiker, Northwood's community liaison. "We started out as a social movement to connect the neighbourhood with its elderly. Many of our residents and volunteers are from the community."
Fitzgerald started attending the weekly dance at Northwood, where legendary saxophonist and neighbourhood boy Bucky Adams plays with his band. Besides learning new steps from nonagenarians, she decided the city's required approach of getting everyone's approval was an effective mode of community building. She created a poster with a hand-drawn map showing Agricola, Gottingen, North and Bloomfield as borders. All neighbourhood households were invited to two potlucks in April to discuss how sense of place could be enhanced.
Thompson and Fitzgerald love the idea of reclaiming the intersection, and they hope to organize residents to design, landscape, build and paint something special. But first they wanted to open the floor rather than sell their own vision. The first meeting was small, but word spread and the second was well-attended. Wild ideas were floated, like putting disco balls on telephone polls.
Attendees also wanted to support citywide initiatives like the Switch: Open Street Sundays project of the Cities & Environment Unit at Dalhousie, which proposes closing some road lanes for a five-kilometre stretch, connecting the Hydrostone to Point Pleasant Park. Residents also welcome the permanent bike connector lane through their hood.
This week, Fitzgerald is going door-to-door again, municipal-politician style, inviting people to a June 14 meeting to create a tangible project. It'll likely include supporting Northwood's seniors' block party, creating pendants around the neighbourhood---something identifying it, creating a community art gallery via trees and telephone poles. There will also be regular potlucks held in the park at Fuller Terrace and Ontario. And functional art is planned, like funky painted benches.
The mix of gumption and humility that allows these residents to ask open questions on building genuine, strong community, is elusive. As much as the too-rare progressive environmental policy, there is hope in that willingness of a community to work together and harness its own fate.
Chris Benjamin is the author of Eco-Innovators: Sustainability in Atlantic Canada, and Drive-by Saviours, a novel.